Peter Temple's Miles Franklin Award winning novel, Truth, opens with the following lines:
On the Westgate Bridge . . . a dead woman, a girl really, dirty hair, dyed red, pale roots, she was stabbed too many times to count . . . Villani looked at the city towers, wobbling, unstable in the sulphurous haze. (1)
In many ways, this quotation exemplifies assumptions about criminality and victimhood that reproduce hegemonic masculinist values. Feminist literary criticism identifies such tropes in the crime fiction canon, including: the good/bad woman dichotomy for the description of female characters (Jaber 118); 'being titillated by the abused female body' as an inciting incident to propel male characters into conflict (Munt 198); and the placement of crimes in 'public areas of activity' (Cranny-Francis 2). By contrast, 1980s Second Golden Age feminist hard-boiled fiction showed women as private investigators: characters with agency, but agency prescribed by masculinist institutions and narratives that 'undercut their protagonists to reinforce a social standard of female inequality' (Klein qtd. in Munt 191). The contemporary crime subgenre domestic noir builds on the Second Golden Age by focusing on women protagonists, their interests and values (Klein; Walton and Jones; Bird). Miller describes this as the 'active turn' of crime writing: 'The female protagonist in these texts is not restricted to a small number of roles: the inert body to be looked at, dissected and penetrated both criminally and then in the pursuit of justice; nor is her only participatory role as part of an established patriarchal culture, in the position of police officer or pathologist' – instead, she '[plays] a crucial role in shaping and directing the narrative' (90). I argue this shift aligns with developments in criminological theory and that theory's consequent uptake in media and culture more broadly.
Marsh and Melville argue that feminist criminology investigates 'gender-based power differential dynamics, as they intersect with class, race, sexuality' (126), which Britton claims led to the successful promulgation of criminological research and theory on issues such as female victimisation in rape and domestic violence: 'activism both within and outside the discipline has been instrumental in framing women's victimization as a legitimate social problem and in making concrete changes in the criminal justice system' (64). I will argue that the domestic noir subgenre is both shaped by, and has a shaping influence on, an enhanced awareness in broader culture of these feminist criminological principles. I begin with an extended discussion of how to define domestic noir, positioning the origins of many ideas in domestic noir within the female Gothic, another genre concerned with the menace of the private sphere. I then turn to feminist criminological theories regarding domestic violence to underpin a textual analysis of Emily Maguire's domestic noir novel, An Isolated Incident. I aim to demonstrate how domestic noir narrative strategies leverage the complexities of feminist gains in criminology and criminal justice to give voice to women's experiences of gendered violence.
Domestic Noir and the Female Gothic
Despite the high visibility of the subgenre of domestic noir, including bestsellers and their remediations such as Gillian Flynn's Gone Girl (2012) and Paula Hawkins's Girl on the Train (2015), the first, and to date only, academic text on domestic noir was published in early 2018 (Joyce and Sutton). Alongside this authoritative text, author interviews in the media and book reviews in industry publications are useful in scoping the topic as both a publishing phenomenon and an emerging generic development of the crime novel. Domestic noir was first conceptualised in 2013 by novelist Julia Crouch describing her own work: 'domestic noir takes place primarily in homes and workplaces, concerns itself largely (but not exclusively) with the female experience, is based around relationships and takes as its base a broadly feminist view that the domestic sphere is a challenging and sometimes dangerous prospect for its inhabitants'.
The broad term 'noir' is notoriously over-used to describe a range of texts, from the original eighteenth-century French 'Roman Noir' to recent place-based trends such as 'Scandi Noir' and 'Tartan Noir' (Redhead 2). The tradition of film noir creates suspenseful atmosphere through chiaroscuro, or the deliberate contrasting of light and shadow (Schrader 5), as seen in the 1944 domestic thriller film Gaslight. A tightly plotted psychological thriller, Gaslight spawned the popular and now widely used term 'gaslighting', meaning (according to the Oxford English Dictionary) to cause another person, usually an intimate partner or family member, to doubt their own reality as a means of controlling their behaviour. The concept of gaslighting is a central feature in domestic noir works, used to develop narrative interest and deliver dramatic tension. Analogous terms for what Sutton describes as 'the domestically themed psychological thriller' (55) include 'Marriage Thriller' (Turnbull 25; Scholes), which I avoid using because it excludes novels that reference multiple significant features of domestic noir but centre on non-marriage relationships, such as sibling or friend. I also avoid use of the less common 'Chick Noir', which suffers from criticism, along with its etymological root 'Chick Lit', as a potentially pejorative term (Ferriss and Young 92–93). Both 'Domestic Suspense' (notably popularised by Sarah Weinman's 2013 editorial collection Troubled Daughters, Twisted Wives: Stories from the Trailblazers of Domestic Suspense) and 'Domestic Thriller' are used to describe various sub-generic literary trends since the 1940s (Nummelin; Rafferty; Boucher), including the influential works of Patricia Highsmith whose 'ultimate target is the ways in which both men and women are forced into gendered positions that entrap them within restrictive moral codes' (Peters 21). I deliberately use the contemporary marketing label of domestic noir to distinguish the more recent literary trend that sits in lineage and shares many traits with these earlier works (Nette), while adding distinctive features such as the use of new media as an epistolary element (Donnelly 9) and, as will be demonstrated, references to feminist conceptualisations of domestic violence.
A range of book reviews link domestic noir to a literary lineage extending from eighteenth-century Gothic literature such as Ann Radcliffe's Romance of the Forest, through nineteenth-century iterations such as Charlotte Bronte's Jane Eyre, and into the twentieth century to Daphne Du Maurier's Rebecca (Jones; Nette; Nummelin; Ballyn; NPR; Miller; Turnbull; Sullivan; Fallon; Scholes; Rafferty). In each of these books, and the genre more widely, 'the person lying next to you may not be who you think they are' (Turnbull 35). Domestic noir, then, speaks to the enduring theme of the threat personal relationships pose to women (Scholes). Gothic literature is repeatedly concerned with 'heroines [who] are silenced by imprisonment, enforced marriage or death' (Wright 107). Elements common to both the female Gothic and domestic noir include: descriptions and metaphors expressing self-loathing (Moers 109); preoccupation with events from the past, particularly relating to the private sphere and the psyche, rather than public history (Wallace 134); the twinning of female viewpoint characters as a form of divided or opposing parts of the self (Wallace 135); and the use of domestic or otherwise familiar spaces as sites for the threat of haunting, entrapment or monstrosity (Smith and Wallace 5). While Moers observes that 'the Naturalism movement lifted the Victorian taboo on writing about the body in terms of sex and birth' (Moers 92), I will argue that domestic noir breaks a parallel taboo in challenging contemporary limitations: writing about domestic violence.
In summary, building on Crouch's initial definition, I define domestic noir as a genre that: centres on a troubled relationship (Turnbull 35); explores gendered violence from the point of view of at least one female character (NPR); and references features of this genre, such as an unreliable female narrator and twisting plotlines (Sullivan), with a grim or unsettling ending (Redhead 1).
Feminist Criminology
Humphries argues that feminist criminology has challenged, reframed, and improved legal definitions and data collection regarding women and violence (as both victims and perpetrators) and, further, that those changes have been registered more widely in the community via media, both in the preoccupations of mainstream journalism and in the themes and features of literary genres (xi). In this section, I will outline key concepts in feminist criminology to lay the groundwork for employing Humphries's conceptual framework in a textual analysis of An Isolated Incident by Emily Maguire.
Feminist criminological research critiques and responds to the many and varied criminological theories developed since the eighteenth century, including classical, biological, psychological, social learning, and social control theories (Akers and Sellers). Moreover, feminist criminology develops its own theoretical models addressing issues in gendered crime and justice, with different forms of feminist criminological thought engaging each other in critical dialogue. These schools of thought parallel broader feminist scholarship, including liberal, radical, Marxist, socialist, postmodern, and intersectional feminisms (Akers and Sellers 267; Van Gundy 2).
In feminist criminology, the five approaches to the study of gender in Daly and Chesney-Lind's influential work, Feminism and Criminology (1988), are definitive: gender is a 'complex social, historical, and cultural product'; gender orders 'social life and social institutions'; gender constructs are asymmetrical, privileging 'men's . . . social and economic dominance over women'; 'the production of knowledge is gendered'; and in response, feminist criminology places women at the 'centre of intellectual inquiry' (Daly and Chesney-Lind 504). I argue that domestic noir's literary themes and features have developed alongside advances in criminological research driven by these parameters, most specifically feminist understandings of women and violence. While my research does not seek to prove a causal relationship between the behaviour of fictional characters and real-world gendered violence, I explore the way contemporary writing craft aligns with feminist influences on crime and justice concepts such as Life-Course theory and the General Strain Theory of Deviance, discussed in more detail below.
As part of the broader feminist movement, feminist criminological research has helped reshape our understanding of violence within the home and between partners (Sharp 247) so that the definition of domestic and family violence is now broadly accepted as patterns of abusive behaviour by an intimate partner, ex-partner or family member to maintain power and control over another through physical, sexual, psychological, social, emotional, economic, and/or spiritual abuse (Morgan and Chadwick par. 7). Readers of domestic noir will immediately recognise these as recurring central themes. Feminist criminology and domestic noir are grappling with similar problems, albeit in very different ways.
However, while feminist research and advocacy resulted in domestic violence being recognised as a crime in Australia in the late 1980s (Mugford), it is important to note that evidence collection and statistical reporting on domestic violence offences is challenging due to behavioural and relationship complexities surrounding incidents, including conflicting uncorroborated reports and the presence of co-occurring offences (Australian Bureau of Statistics par. 5). As well, criminal justice responses have been flawed and inconsistent:
Some people recounted excellent responses from police and the courts, but others reported extremely unhelpful and traumatising responses. Many expressed the view that domestic violence is not taken seriously by either police or magistrates, and some felt their safety was not prioritised. (Special Taskforce on Domestic and Family Violence in Queensland 86)
These factors mean domestic violence is harder to track, police, and prosecute than other crimes, and therefore easier to misrepresent, ignore, or misjudge. The difficulties in constituting clear evidence, and the insensitivity of systemic responses, are key generic features of domestic noir, used to structure the misdirections and unexpected turns found frequently in the narratives.
Additionally, significant gains made by feminist criminology have met with backlash. These counter-movements posit 'domestic conflict', a concept borne of an international men's rights movement pressuring domestic violence discourse (and laws) to consider men as equal victims (Sharp 251). Feminist criminologists have developed concepts to define and challenge legal manifestations of such backlash: 'illegal justice' is when women use crimes ranging from fraud to murder in order to defend themselves from abuse, and 'vengeful equity' is when women abuse survivors who commit acts of illegal justice are revictimised through a criminal justice system that does not take the specificities of domestic violence into account (Chesney-Lind and Pasko 134). The textual analysis below explores how these concepts are deployed as narrative elements of contemporary domestic noir.
Humphries shows how the rise in popularity of domestic noir occurs against a backdrop of an increased culture of interest in domestic violence. As a test of her theory, I measured mentions of the term 'domestic violence' in Australian newspaper reports in five-year increments from 2000–2015. To generate this data, I conducted a series of searches in the Factiva database on the parameters: Australian newspapers, 'domestic violence', and [year]. To test the reliability of the trend shown, and to allow for regional variations in terminology, I conducted parallel searches on related terms: 'intimate partner violence', 'domestic homicide' and 'family violence' – all of which showed the same trend. The results are as shown in the following graph: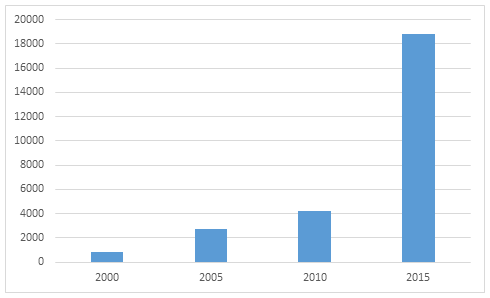 From fewer than 1,000 mentions in the year 2000, the appearance of the term 'domestic violence' approximately doubles in news reports in 2005 and again in 2010, but then leaps to more than quadruple, with nearly 19,000 mentions in 2015, during which domestic violence campaigner Rosie Batty was Australian of the Year. Alongside this culture of increased media interest in domestic violence came the rise of domestic noir. Gillian Flynn's Gone Girl, viewed as the breakout bestseller that established the domestic noir genre as a commercial and literary success, was published in 2012: it sold more than 15 million copies (Heller), overcoming a putative bias against genre fiction among literary award judges to be shortlisted for the Women's Prize for Fiction 2013 (Clark). The wide readership for domestic noir endures: using a Goodreads analysis based on the distinctive 'girl' generic motif, Mandel found that 2016 was 'shaping up to be the biggest year for "girls" in fiction in decades, with nearly one percent of fiction titles featuring the word "girl" in the title'. The evidence shows a growth of popular interest and discussion about domestic violence, including its expression in fiction via the crime subgenre of domestic noir, which parallels the development of feminist criminological theory about domestic violence. I argue this relationship represents a cultural shift based on shared concerns about feminist concepts of gendered violence, and that these concepts can underpin a productive reading of domestic noir texts.
An Isolated Incident
Viewed through the lens of feminist criminology, how does domestic noir dramatise domestic violence through narrative strategies? To answer this, I analyse Maguire's An Isolated Incident (2016). The novel subverts generic elements to explore intersectional feminist concerns – how 'actions and opportunities are structured by . . . an interaction that evolves from the intersection of statuses' – addressing class and, in a more limited scope, race (Sharp 249). I will argue that this novel builds on its Gothic and feminist crime predecessors – such as Patricia Highsmith and her 'forensic examination of the perils of the domestic' (Peters 23) – to explicitly and/or implicitly reference and critique contemporary criminological concepts and strategies relating to domestic violence.
An Isolated Incident explores the aftermath of the rape and murder of the much-loved twenty-three-year-old Bella Michaels in a small country town. The story is delivered primarily through the viewpoint of her older sister, Chris, a local bar attendant and occasional sex worker. While there are many examples of feminist-influenced narrative strategies throughout the novel, this article focuses on the way domestic violence is represented in the text to challenge the 'domestic conflict' backlash while also deconstructing the 'monster myth' of male perpetrators, which holds that male violence stems from uncontrollable, inhuman urges (Meagher). Maguire makes authorial choices around characterisation, plot and setting that, as she describes, 'insist on the humanity of everyone involved to allow more complex conversations' (Maguire, 'Pretty Dead Girls').
Central viewpoint character, Chris Michaels, and her ex-husband, Nate, illustrate the moral complexity typical of characters in domestic noir texts: we learn that over the years of their changing relationship they have both engaged in criminal behaviours that impact on each other, and have exhibited defects of character that exacerbate each other's. Chris's lifelong experience with domestic violence can be read through the lens of Life Course Theory, a theory that 'allows for an examination of the relationship between early life experiences and later pro- or antisocial behaviour' (Van Gundy 47).
Chris's experience of domestic violence began in childhood: 'The first time a man hit me I was fourteen. Mum's boyfriend had been living with us for about a month' (151). Feminist criminology adapts Life Course Theory to the female experience through Kathleen Daly's concept of gendered pathways, in which 'women's dysfunctional intimate relationships facilitated adult victimization, reductions in self-efficacy, and current mental illness and substance abuse' (Salisbury and Van Voorhis). This theory is a useful lens through which to read Chris's character, as her experiences of domestic violence continue throughout her life to her relationship with Nate: 'When I finished up [at work] and came out he punched me in the face and when a bloke passing by told him to lay off, Nate knocked him over and kicked him in the guts a few times' (111). This is a violent assault. Yet on the same page, Chris minimises the gravity of Nate's violence: 'He's hurt me like I never thought possible, but he's the best of men, best of people, he really is. He tried hard to forgive me for getting him on the booze again' (111). Chris's reporting of Nate's abuse explicitly illustrates internalised victim-blaming (An Isolated Incident: Reading Notes). This characterisation reflects criminological research into how '[c]ommunity attitudes influence how people respond to violence, from victims and their friends and family to law enforcement professionals, employers and policy-makers: [in Victoria] 21% [of the population] believe domestic violence can be excused if the person regrets it . . . [and] 9% say violence is excusable if the person is heavily affected by alcohol' ('Facts and Figures' 3–4).
Yet, alongside these representations of Chris as a victim, her character is imbued with agency and control, often linked to her abuse or trauma experiences. When asked by Nate to describe the circumstances of Bella's death and the condition of her corpse, Chris 'didn't spare him any details'. However, she then addresses the reader directly, withholding any description from us and admonishing us to 'go ahead and read the damn coroner's report and look up those obscene photos for yourself. I'm not your pornographer' (22–23). Here, the text depicts Chris as an unreliable narrator, both powerful and vulnerable, while breaking with the crime canon's motif of presenting women's abused bodies for titillation. In this way, characterisation in domestic noir-influenced works can be understood through Daly's gendered pathway insights into the lifelong impact of abuse trauma: readers sympathise with Chris's history of abuse and socio-economic disadvantage that drive her risky behaviours as an adult – but also mistrust her version of events, since her observations and behaviours around her experiences of violence variously reveal her as a victim, a PTSD sufferer, an apologist for violence, a manipulative wife/ex-wife, a criminal, and a campaigner for victim's rights.
Interestingly, feminist research utilising Life Course Theory finds that statistically, for women, intimate relationships are a risk factor for criminality and mental illness because violent victimisation (such as domestic violence) is a pre-cursor, whereas men are more likely to be inoculated against criminality and depression by their intimate relationships (Van Gundy 59). Such a dynamic can be seen in Nate's character development: after playing an important support role complicated by their relationship history including his violence, Nate leaves Chris to return to his new pregnant partner and avoid relapsing into drinking and abuse.
The characterisation of Nate – who quickly establishes himself as Chris's main support person after her sister's disappearance – as a former domestic violence perpetrator functions to position him as a suspect in Bella's rape and murder. Feminist research into the General Strain Theory of Deviance can be useful here in framing the behavioural choices of these central characters. This form of Strain Theory focuses on emotional motives for crime. These motives often arise from unmet goals and expectations; for example, male crimes of domestic violence may arise from anger at failing to receive culturally normative privileges of masculinity within an intimate or family relationship, a common theme in crime fiction. According to General Strain Theory, men may 'deploy coercive control to secure privileges that involve the use of time, control over material resources, access to sex, and personal service' (Stark 5). Men who commit violence against women 'report experiences of losing control, suspecting infidelity, involuntary separation, jealousy, and rage' (Eriksson and Mazerolle 3). Viewed through this lens, Chris's occasional sex work can be seen as a source of 'strain' that correlates with Nate committing domestic violence, and thus a potential source of narrative tension. Yet Nate is also a compelling sympathetic character who is compassionate in his support of Chris and displays sincere and sustained efforts to reform through sobriety: his character demonstrates male violence as a choice, not a compulsion, thereby challenging the 'monster myth'. In terms of the reading experience, Nate engenders both suspicion and sympathy, key conventions of the genre.
Feminist criminologists call for a nuanced understanding of how General Strain Theory might predict female crime in women with a history of abuse – a common theme in domestic noir (Sharp 248). This issue is explored in Maguire's text when, in Nate's absence, Chris is shown to plunge into criminal and risk-taking behaviour through sex work with potentially violent clients, and into mental illness through scenes where she is haunted by her murdered sister. This plot point echoes Tana French's domestic noir novel Broken Harbour, in 'deliberately engag[ing] discourses of haunting to manifest the almost mystical ways in which unseen hegemonic forces invade even the most sacrosanct of domestic spaces' (Ingram and Mullins 162). Chris's 'strain' is amplified by class issues: Chris's acts of 'illegal justice' of opportunistic sex work committed in her struggle for economic independence can be seen as 'symptoms not of an individual, personal failing, but of national, hegemonic forces . . . [the country] itself has become haunted by the specters of poverty and the failed promises of prosperity' (Ingram and Mullins 170): as a woman who has experienced domestic violence since childhood, living in the economically depressed regional town of 'Strathdee', Chris faces multiple stressors arising from the gap between society's promise of security and her limited ability to achieve it.
Social support is a vital factor inoculating women against criminality and depression after violent victimisation (Kaufman). Chris, throughout the final section of the text, accepts two women as imperfect but supportive allies, and with their support, along with the warnings and affirmations from her sister's ghost, reduces her self-harming grief responses.
This reading of Chris and Nate has shown how generic conventions are produced and subverted through nuanced dramatisations which detail the impacts of domestic violence explicitly in the text. These impacts align with current feminist criminological research on Life Course and Strain Theories. Characterisation in the novel underpins and interacts with its central conflicts.
~~~
The complexity of domestic violence as a serious and ongoing safety threat to women is presented throughout the text via a range of narrative devices. One of these devices is the representation of media reportage. May Norman, a woman of colour whose ethnicity is not specified, and a journalist struggling to maintain a career in the new media environment, is an important secondary viewpoint character in the text as she decides to focus on an in-depth investigative series on Bella Michael's murder. The subtext of Norman's non-Anglo heritage serves to highlight the way media reports focus on young, white women like Bella and 'how the attention paid to that death obscures the everyday violence that gets 60 seconds on the late news if it gets any attention at all' (An Isolated Incident: Reading Notes).
In a review of Sabine Durrant's domestic noir novel Under Your Skin, Donnelly states: 'Murder and media? Sounds like a recipe that propelled Gone Girl along'. Building on this observation, I argue the key ingredients of domestic noir could be described as marriage, murder and media. In these novels, intertextuality via fictionalised media journalism or self-reporting – ranging from news reportage to epistolary elements of social media – is used to provide additional facets of information. These create misdirection by rotating suspicion through a cast of characters and operate as a metaphor for the façade versus the reality of a seemingly 'perfect' relationship. In Maguire's novel, fictionalised journalism functions interdiscursively to explore the impact of increased media reporting of domestic violence (as demonstrated in Table 1, above). Maguire explicitly sets out to explore 'how it feels to deal with terrible grief while blinded by the media spotlight': '[a]ll of the quotes in May's news articles . . . are paraphrases of those found in recent, real world reporting of crimes against women' (An Isolated Incident: Reading Notes).
While focusing most of her attention on Bella's case, Norma also reports on a factually unrelated but thematically resonant recent Strathdee murder:
Police have this afternoon confirmed that the husband of Tegan Miller, 22, who was found dead in a Strathdee shopping centre dumpster, has confessed to her murder . . . "I never would have thought him capable of this. He loved her so much," said [a] friend, who asked not to be named. (113–14)
Maguire uses Norman's clumsy and inexperienced journalistic approach – such as the ubiquitous perpetrator testimonial shown in the report above – to highlight how '[t]he news judgments of journalists . . . reshape real violence into represented violence' (Humphries xi) in ways that can challenge or reinforce 'cultural norms that condone men's use of force to obtain a variety of goals' (Collins and Carmody 391).
Another of Norman's reports includes a detail that crime readers recognise as a precursor behaviour – 'the coexistence of animal abuse and various forms of interpersonal violence' (Flynn 453) – which functions as a foreshadowed hint at a revelation to come of the identity Bella's killer:
Strathdee police are appealing to the public to help them find the person responsible for at least three cases of animal cruelty . . . Police say there is no reason to believe that the animal deaths might be connected with the unsolved murder of Bella Michaels . . . "but again we urge anyone with information about these crimes to come forward and tell us what they know". (206–07)
In addition to reportage and foreshadowing, Maguire uses dramatic irony to rotate suspicion, as shown when Chris tracks down a person of interest – another convicted domestic violence perpetrator, whom readers know has actually been cleared of suspicion in Bella's murder:
I hadn't planned past finding out where he lived . . . I rifled through my handbag for a weapon but there was nothing remotely useful . . .

The cops exchanged a look [about me] that everyone who's ever worked in a pub knows. Crazy, but harmless enough . . .

So, yeah, they let him go, because he might be a pregnant-wife-beating shit bag, but he didn't kill anyone, so that's alright then, hey?

Me, I was warned to stay away. (249–50)
Domestic noir can align with feminist criminological studies, by showing how abuse trauma issues are tracked from girlhood to womanhood while moving 'from private injury to public harm' (Chesney-Lind and Pasko 87). Chesney-Lind and Pasko write that 'although this harm may take place in the private sphere, as individual or personal events altering girls' very sense of self, it contributes to drastic public behaviors with social consequences' (89). Another way that girlhood abuse trauma appears in womanhood is in an erratic 'volume control' of emotional responses, and thinking/acting under stress (Bloom 10–15). In the scene quoted above, as Chris attempts to take justice into her own hands – an impulsive, potentially dangerous, and certainly unlawful act – An Isolated Incident explores the validation of women's survival strategies through acts of 'illegal justice' (Chesney-Lind and Pasko 134). Using dramatic irony, Maguire ensures the reader already knows that Chris is impulsively seeking to exact revenge on a person cleared of suspicion in Bella's murder, highlighting the 'volume control' issue of Chris's disproportionate and inappropriate response.
Thus, Maguire uses a range of narrative techniques – including dramatisation, intertextuality, dramatic irony, backstory exposition and foreshadowing – to gradually reveal multiple domestic violence perpetrators throughout the town as potential suspects in Bella's rape and murder. In this way, the text creates the red herrings vital to the crime genre's twisting plotline, heightening narrative interest, while also critiquing the factors perpetuating a hegemonic masculinity discourse. Feminist criminology views this discourse as a conditioning 'strain' factor in the commission of acts of both domestic violence and illegal justice.
Setting also works to critique gendered violence in the text. An Isolated Incident is set in fictional Strathdee, a small, economically depressed country town that offers opportunities to dramatise how regionally isolated and working-class women face specific structural and individual risk factors for domestic violence (Australian Government. Department of Social Services): 'At school we had an expression: Strathdee-good. It meant that something was tops by Strathdee standards but not much chop compared to anything you'd get outside of here' (3–4).
Rather than employing the generic convention popularised in Gone Girl of portraying post-global-financial-crisis upper-middle-class suburban imagery in the manner of female Gothic sites for the threat of entrapment or monstrosity (Smith and Wallace 5), An Isolated Incident explores systemic threats to Chris and Bella's safety, such as limited education and few job opportunities. This can be seen when Chris meets Bella's secret lover, a married man who functions as another suspect in her murder: 'She broke up with me several times, tried very hard to stay away, but we just kept . . . We worked together, saw each other every day. I'm the geriatrician at the . . . She talked about quitting, but it's not like there are jobs up for grabs around here' (128). Thus, setting is used to present an intersectional feminist approach: one that aligns with criminological research claiming that 'poverty and socioeconomic class status influence girls' outcomes differentially because of a lack of opportunities and diminished decisional avenues available to less advantaged young women' (Chesney-Lind and Pasko 89).
Conclusion
Literary critics have observed the suitability of crime fiction for feminist expression, noting that '[t]raditional crime fiction exonerates society by apportioning blame on to an individual. Feminist crime fiction makes guilt collective and social, and the need for change structural' (Munt 198). Thematically, as its title heralds, An Isolated Incident disrupts the trope of isolating the cause of crime on the individual level by studying the rape and murder of a young woman through its impact on surviving characters and its representation as a broader community and cultural concern, rather than through a criminal investigation (An Isolated Incident: Reading Notes). In doing so, some readers may find that An Isolated Incident fails to deliver on aspects of generic promise, withholding 'the right kind of vicarious emotion' (Radway 178) delivered through a detailed dramatisation wherein an individual male perpetrator is brought to justice (either legally or illegally, as in Gone Girl where the husband is entrapped in the role of dutiful husband by his wife's coercive threats). Instead, An Isolated Incident deliberately anonymises the man charged with Bella's murder to represent a kind of everyman, depicting only 'footage of police leading the man, whose face was blurred, out of a nondescript red-brick house' (335, my ephasis). The resolution offers, in Maguire's words, 'at best, a brief moment of comfort' (An Isolated Incident: Reading Notes). With the subverted resolution, however, the text ends on a suitably noir note: while a single perpetrator has been charged, women remain at risk – despite developments in criminal justice responses and increasing community awareness through media reports, individual acts of gendered violence are ideologically interlinked to present an ongoing, pervasive threat.
Sutton argues '[t]here is a growing sense that under the huge umbrella of crime fiction, work of great social, cultural and literary significance – especially in relation to power, gender, domination, sexual, racial and class politics, and, in a literary context, structural and thematic form – is being produced, and slowly recognised' (55). I have argued that domestic noir represents a powerful approach to dramatising gendered violence. Drawing on a literary lineage of the female Gothic, and reflecting feminist analyses of gendered violence, its narrative strategies function to weave together the threads of women's experiences of traumatic abuse into unifying personal narratives of powerful and complex female characters. In the case of An Isolated Incident, the very complexities making domestic violence difficult to track and prosecute in the contemporary criminal justice system are shown to be compelling narrative drivers in contemporary domestic noir.