Australian journalist Lawson Glassop's 1944 war novel, We Were the Rats, is probably best remembered as being responsible for the first conviction of an Australian publisher on a charge of obscenity. The story of a young man's life in Australia, and then in the army in Palestine and Northern Africa during World War II, the novel particularly focused on the soldier's time as one of the 'Rats of Tobruk', the nickname given to Australian soldiers during the German siege of the Libyan port city of the same name. Angus and Robertson published the book to critical acclaim and strong sales in 1944 (Moore 159), before it became the subject of a high profile obscenity trial brought by the New South Wales police in 1946. This event saw the publisher fined and the book banned in this jurisdiction. In addition to being 'a significant contribution to Australian war literature' ('Lawson Glassop'), Robin Gerster argues that the book is an early example of a more brazen and sexualised take on the Anzac myth that came into play in Australian fiction after World War II (180). According to The Oxford Companion to Australian Literature: 'The book's strength lies in the frank and realistic documentation of digger talk, attitudes and behaviour, aspects of which shocked some of the original readers' (Wilde, et al. 721). It notes that after being banned, We Were the Rats remained out of print until it was republished in revised form in 1961.
The Oxford Companion omits to mention that when We Were the Rats was re-released, it was by Sydney-based Horwitz Publications (referred to throughout this article as Horwitz), one of Australia's largest post-war pulp paperback publishers, as part of its Name Author series. No records exist to indicate exactly what the company meant by the term, but given Horwitz's intense focus on sales it most likely referred to authors who had been best sellers in proven commercial genres. Yet, for Australian authors no longer at the peak of their popularity, the Name Author series provided a useful way to pocket a hundred pounds – Horwitz's standard author fee in the first half of the 1960s – and get their book back in print. This series comprised eighty-four books between the years 1959 and 1966, mostly fiction, by Australian, American and British authors (Flanagan 36–38). The majority of these books had already appeared in print, predominantly in hardback, often through prestigious local and international publishers. Horwitz re-released them in paperback, with salacious cover art, and distributed them through non-traditional outlets. Horwitz also commissioned Glassop to write a sequel of sorts, The Rats in New Guinea, published as part of the Name Author series in 1963 and again in 1964.
The brief life of We Were the Rats on the list of a pulp publisher is fitting given that one of the key passages in the novel, which had resulted in the obscenity trial (Sullivan 42), described an Australian soldier returning from leave in Cairo with an American pulp magazine called Saucy Stories; he proceeds to read a sexually explicit passage to his mates (177–79). Challenged by a fellow soldier as to why he would read such material, the narrator responds: 'They're amazing. As simple as a schoolboy's essay on the sunset. And strangely enough some of them are well written . . . They achieve what so many writers try so hard to do and fail. They give a vivid picture. Anyhow, a man's got to read something' (177).
A privately-owned company, Horwitz left no archive. Horwitz stopped publishing paperback fiction in early 1992. The company sold most of its holdings to a private equity firm in 2007 and had largely ceased operating by 2009. The only publicly available listing of its pulp fiction titles is contained in the Australian bibliographical database, AustLit, hosted by the University of Queensland. Horwitz published its fiction in series, according to genre (or category, as the publisher often referred to them), author (a process made complex by the extensive use of pseudonyms), and sometimes in the case of books published overseas, by original publisher. Horwitz also established and wound up several imprints during its time as a publisher and some series were organised according to these editions. While AustLit contains reasonably accurate information for Horwitz paperbacks by author, it only shows incomplete details of the Horwitz series. For more detail, one needs to consult the late Graeme Flanagan's Australian Vintage Paperback Guide (1995). Flanagan, a collector of vintage pulp paperback fiction, put together the first comprehensive bibliographical listing of Australian pulp published by Horwitz and other local pulp publishers. With the help of staff at the company when it was still in existence, Flanagan also sorted the books according to series. There are discrepancies in Flanagan's guide, as there are in the AustLit listing for the company, suggesting that a completely accurate Horwitz bibliography might not be possible. Further layers of complexity derive from the fact that some of the books in the Name Author series appear to have been retitled by Horwitz, making it difficult to ascertain their exact provenance, and most of the actual physical books are incredibly rare. Nevertheless, Flanagan's research underlines the importance of the work done by fans – what some have termed 'fan scholarship' – in the cataloguing of marginalised print culture forms such as pulp fiction (Patrick 2015).
The Name Author series offers a window through which to view changes in Australian publishing in the second half of the 1950s and the early 1960s, particularly in response to the increasing prominence of the paperback, and the largely unacknowledged pioneering role Horwitz played in its local uptake. The series also sheds light on the little-examined interface between a number of prominent mid-century Australian authors – such as Ruth Park and D'Arcy Niland – and pulp paperback publishing. The presence of these authors on the Name Author list highlights a local equivalent of the process Paula Rabinowitz and David M. Earle refer to in the early to mid-twentieth century American context as 'pulp modernism' (Rabinowitz Black & White & Noir; Earle Re-Covering Modernism). This circumstance highlights the fluid nature of authorial reputation as well as the tensions and assumptions underpinning the construction of the literary canon in mid-century Australia.
Defining pulp fiction
The term pulp fiction was originally used to categorise cheaply produced, all-fiction magazines (Johnson-Woods, 'The Mysterious Case'), of which Saucy Stories was one. These titles proliferated on American newsstands in the second half of the nineteenth century and into the first decades of twentieth century. This type was the dominant form of pulp fiction until the post-war publishing boom saw it superseded by the paperback, which then become cemented in the public imagination as a symbol for 'all that was torrid, violent and formulaic' (Earle, 'Conrad Under Wraps' 53).
Discussion of the pulp paperback has often focused on its outré and sensationalist cover art (Bower; Zimet). But there are other important aspects of the pulp paperback's materiality, many of them inherited from the pulp magazine format. These features include the speed at which the books were written, produced and distributed; their availability in easily accessible outlets such as newsagents and canteens; the way the stories were tailored to very specific, commercially saleable fiction formulas; and their portability. Important to its success was the fact that the pulp novel was 'small enough to slip into a purse or jacket pocket, cheap enough to throw away' (Stryker 5).
In her book, American Pulp: How Paperbacks Brought Modernism to Main Street, Paula Rabinowitz broadens the discussion in relation to the definition of pulp fiction by asking:
What is pulp? Steamy fiction? Sleazy magazines? Cheap paper? Or might it be a technology, a vehicle that once brought desire – for sex, for violence – into the open in a cheap, accessible form? Or . . . might it be part of a larger process by which modernism itself, as high literature and art but also as a mass consumer practice, spread across America? (22)
Earle has focused on pulp as a means to dissect the commercial side of modernist publishing by demonstrating how sensationalist pulp themes and presentations existed on both sides of the so-called literary divide. His multifaceted examination of the mass-market paperback edition of Joseph Conrad's Heart of Darkness, published by Signet imprint of New American Library (NAL) in 1950, provides a case in point ('Conrad Under Wraps'). Earle contrasts the back cover text, which hails Conrad as 'one of the greatest English novelists and perhaps the finest prose stylist of them all', and the introduction by Conrad scholar, Albert Guerard, with the cover, which he describes as 'pure pulp sensationalism' (41). It depicts a shirtless Kurtz, 'Aryan blonde and spectacularly white', surrounded by dozens of black tribesmen brandishing spears and an African female, naked from the waist up. As Earle acknowledges: 'It is clear that Kurtz and the woman are the central figures, and the message that we take from this cover is sensual and sensational' (42).
Earle examines the book's production and dissemination in the context of the paperback revolution in the United States in the 1940s and early 1950s, which occurred after the founding of Pocket Books by Robert de Graff in 1939. Key to the success of de Graff's venture was distribution at newsstands, which broke down the previously understood barrier between publishing and the space of the newsstand. Pocket Books' success attracted a large number of competitors, which required, in turn, a significant amount of raw material, fiction and non-fiction, pulp and literature. 'As a general rule', writes Earle, 'the only literature excluded was at the top of the cultural scale, i.e., literature thought too difficult for the general public. But there are so many exceptions to this rule that it falls apart under scrutiny' (52). Particularly relevant with respect to works of classic literature published in paperback format was the way the cover art 'would mine the text for the slightest hint of salacious innuendo, no matter how contrived, and this would become the cover's subject' (52). In this case, the 'publishers thought that Kurtz's unspoken crime was miscegenation or going native – at least that is what they thought would appeal most to potential buyers' (41). In exploring Conrad's little acknowledged interface with pulp and popular fiction, Earle touches on one of the central contentions raised by the Name Author series: the often porous nature of literary reputation.
The Name Author series and mid-century popular reading tastes
There are certainly limitations to the applicability of Earle's and Rabinowitz's conceptions of pulp modernism in the mid-century Australian context. In particular, there was a difference in scale between that nation's publishing industry and those in the United Kingdom and the United States. This situation worked to limit the exchange between pulp and more mainstream publishing forms in Australia, and the mobility of authorial careers and book marketing exemplified by Signet's edition of Heart of Darkness. But the Name Author series demonstrates that such exchanges definitely did occur. Fifty-six of the Name Author books are by Australian authors, with eleven from the United States and seventeen sourced from Britain. While there is a sprinkling of new material, most of the books had previously appeared in print, in many cases multiple times.
War tales dominated British entrants in the series: three novels by World War II submarine commander turned thriller writer, Alistair Mars, Artic Submarine, Atomic Submarine, and Unbroken, all republished by Horwitz in 1959; John Harris's The Sea Shall Not Have Them, which originally appeared in hardback in 1953 and was republished by Horwitz in 1961; C. E. T. Warrren and James Benson's, Above Us the Waves, originally published in hardcover by George G. Harrap and Co. in 1953 and republished by Horwitz in 1961; a 1963 edition of Pierre Boulle's Bridge on the River Kwai, first published in hardcover in 1954 in London by Secker and Warburg; and a 1966 edition of Barry Wynne's non-fiction book about the French resistance, The Empty Coffin, first published in hardback by Souvenir Press in 1959. There are also books by prolific crime writer James Hadley Chase, a Helen MacInnes espionage thriller, Above Suspicion, originally published by Little, Brown in Boston, in 1941, and a 1963 edition of Richard Mason's The World of Suzi Wong, first published in 1957.
American titles were slanted towards crime and psychological thrillers. Exemplifying this trend are Ben Ames Williams's 1944 novel, Leave Her to Heaven, first published in hardback by Rinehart and Company in 1946; Vera Caspary's Laura, first published in 1942; Bedelia, about a man who thinks he might be married to a serial killer, published in 1945; and William Lindsay Gresham's carnival noir, Nightmare Alley, published by Rhinehart and Company in 1946. There are two books by novelist and poet Olive Higgins Prouty, including Now Voyager, about a woman's relationship with her overbearing mother and the role of psychiatry in helping her find personal freedom, which Horwitz republished in 1959. Other books include: Mary Jane Ward's semi-autobiographical tale of mental illness, The Snake Pit, first published in hard cover by Random House in 1946, and reprinted by Horwitz Publications in 1961; and Charles Jackson's novel about alcoholism, The Lost Weekend, first published by Farrar and Rinehart in 1944.
Many of the Australian entrants in the series occupied what could be described as core Horwitz publishing territory – fiction set in the various theatres Australian forces fought in during World War II and thrillers, the latter heavily oriented towards American-style crime fiction. The series republished seven books by James Edmond MacDonnell, a former Royal Australian Navy officer who started writing for Horwitz in 1957, mainly naval fiction set during World War II. This list included five of his books for the English mass-market publisher, Constable, in the earlier part of the 1950s, before he came to Horwitz. There were three books by Carter Brown – the pseudonym of British expatriate author, Alan Yates, Horwitz's most successful author – who had been penning faux American crime tales for the publisher since 1951. Two of these were mystery novels previously published in the United States; the third was the only novel to appear under his own name, The Cold Dark Hours (1958). A tale of corporate and sexual intrigue set in the public relations office of a Sydney-based American multinational, it was previously published in hardcover by Horwitz in the United Kingdom. The Name Author series also republished ten novels from the highly commercial local writer Jon Cleary, including his debut, You Can't See Around Corners, published in hardback by Charles Scribner's Sons in the United States 1947 and in Australia by Angus and Robertson in 1948, and his 1952 bestseller, The Sundowners. Original material included Gunther Bahnemann's crime novel, Hoodlum, set amid the Bodgie and Widgie youth subculture in late 1950s Brisbane, which came to Horwitz via the author's 'agent', P. R. 'Inky' Stephensen (Nette 2017); the only novel by journalist Don Whittington, Mile Pegs (1963), the story of a ruthless businessman trying to build up a transport empire; and a 1963 bushranger tale, Wanted Dead, by Wake In Fright author Kenneth Cook, writing under the pseudonym of Alan Hale.
The Australian entrants on the list also included novels by more prominent local writers. Foremost among these is Ruth Park. Horwitz reprinted The Harp in the South in 1961 and again in 1962 (Figure 1). In 1961, it also published Harp's sequel, Poor Man's Orange, originally published by Angus and Robertson in 1949, and reprints followed of The Frost and the Fire (1964), A Power of Roses (1965) and The Witch's Thorn (1966).1 The series also republished four books by her husband, D'Arcy Niland. These included the first Australian edition of Gold in the Streets in 1959, a 1962 edition of Call Me When the Cross Turns Over, first published in hardcover by Angus and Robertson in 1957, and his bestseller, The Shiralee in 1963, first published by Angus and Robertson in 1957. Horwitz also published the first local edition of The Big Smoke in 1965.2 The list also boasted three books from well-regarded mid-century author, Olaf Ruhen: a 1965 edition of his best known novel, Naked Under Capricorn, first published in hardback by MacDonald in the United Kingdom and Lippincott in the United States in 1958, and the first Australian publication in 1966 of The Flockmaster and White Man's Shoes, which had been published in the United Kingdom in 1963 and 1960 respectively. Other well-known local entries included reprints of Frank Walford's 1933 novel, Twisted Clay; three books by Robert Close, including his controversial Love Me Sailor; and a 1962 edition of Norman Lindsay's The Cautious Amorist, first published by Farrar and Rinehart in New York in 1932 and banned in Australian for indecency and blasphemy from 1933 until 1953.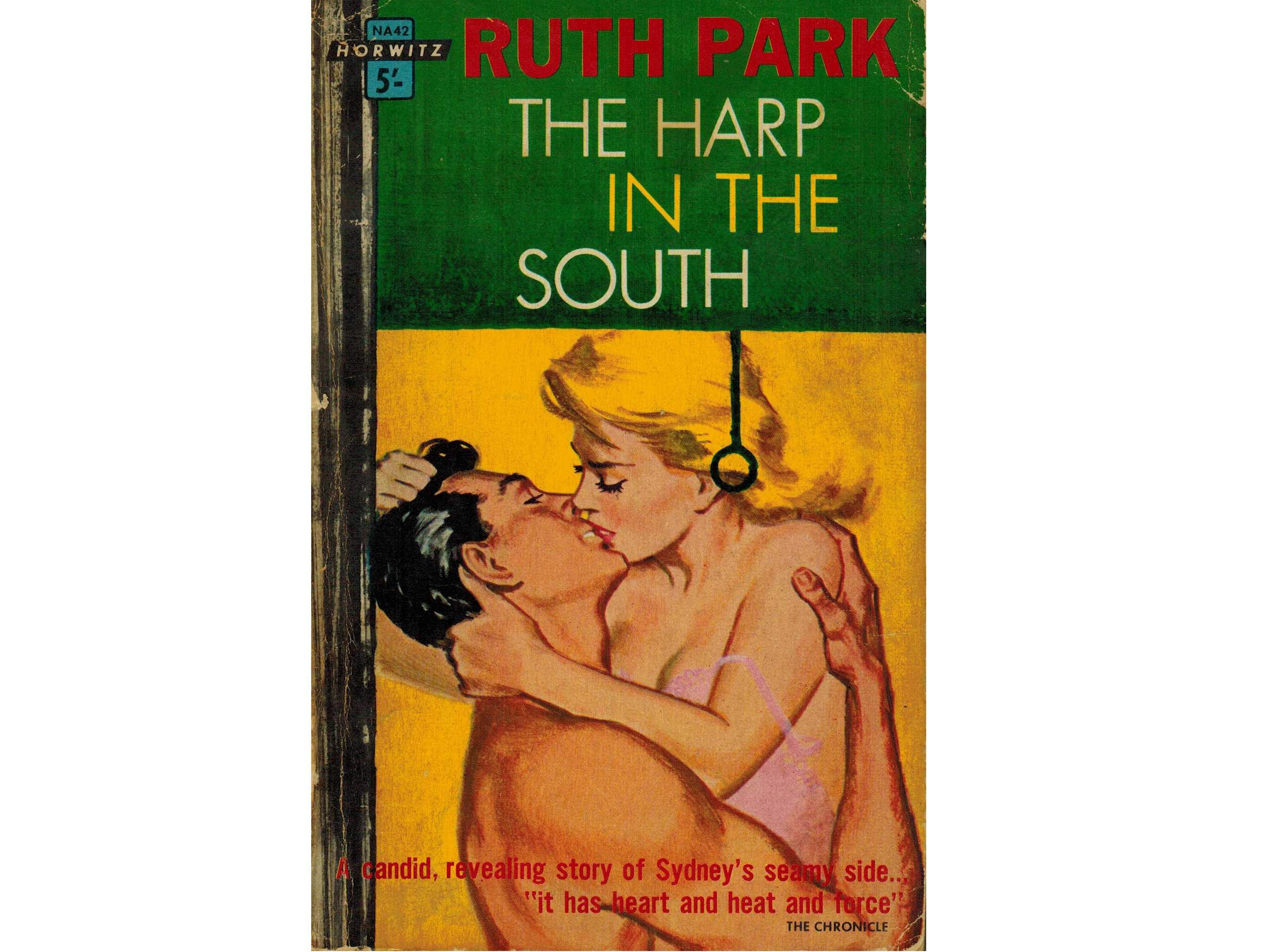 Horwitz and 'books as production line merchandise'
The origins of Australia's pulp publishing industry lie in the 1930s when the Australian Government placed restrictions on imported print material with the aim of halting the flow from the United States of cheap popular literature deemed to be offensive. These restrictions were tightened at the outbreak of World War II and covered virtually all imports of printed material in an effort to preserve foreign exchange (Johnson-Woods, 'Pulp Friction'). Horwitz was one of several Sydney-based publishers to take advantage of the resulting gap in popular reading material to start pulp publishing. The company was unashamedly commercial in its approach, which, in addition to pulp, included publishing non-fiction books, trade magazines and newspapers, comics and educational textbooks. A 1963 newspaper profile described Horwitz as the 'first Australian publishing of any consequence to treat books as a production line merchandise' (Hetherington 22).3
Horwitz's first pulp publications were westerns and science fiction. These appeared in digest format, smaller than a magazine, larger than the then standard paperback format (Johnson-Woods, 'Two Centuries' 10). Cashing in on the then popularity of American crime fiction, Horwitz had its first big success with Yates's debut novel as Carter Brown, The Lady Is Murder, published in 1951. The Carter Brown series became an international publishing phenomenon in 1958 after Horwitz inked a deal with NAL to have the series published in the United States (Johnson-Woods, 'Crime Fiction's Cultural Field' 55). The second half of the 1950s was a period of considerable expansion for the company. It took on more local writers and published new genres of pulp, including war fiction, other mystery series, and medical romance. It also began a partnership with an aggressive distributor, Gordon and Gotch. Gordon and Gotch drove a strategy of selling to newsagents, over which it had a virtual monopoly in terms of distribution, and therefore more or less guaranteed Horwitz healthy sales.
In the late 1950s, Horwitz moved to more conventional sized 'perfect bound' glued paperbacks, or pocket books as they were widely referred to, with four colour covers and letter press printing (May 50). This new format was one of several changes made by the company in the lead up to the lifting of import restrictions on printed matter that occurred in 1959 in order to compete with the growing prominence of mainly overseas paperback fiction ('Sweeping Relaxation of Import Restrictions'). Cheap American paperbacks entered Australia in large numbers, joining British paperbacks that had already been widely available. As one trade paper reported towards the end of 1959, the 'rocket-like rise in sales of pocket edition books or paperbacks during the last five years represents one of the most important developments in the growth of the publishing industry, both here and overseas, since the end of World War II' ('Paperbacks Show Rapid Growth').
Despite these developments, mainstream publishers did not engage with the format until the early 1960s. Adelaide publisher Rigby announced its first run of pocket books in 1960. Angus and Robertson followed in 1961 with its first paperback imprint, Pacific Books, which Jacqueline Kent claims was not particularly successful, partly because the titles brought back into print ranged across the publisher's list and were not particularly focused (259). Penguin started publishing paperbacks locally in the same year. In 1964, Angus and Robertson launched the Sirius imprint that released Australian literary titles in paperback with simultaneous cloth editions (James 303). The first literary pocket book publisher, Sun Books, did not get off the ground until 1965, and Nile contends paperbacks did not become the preferred option of mainstream publishing until the early 1970s (The Making 90).
Neil James attributes the slow take up of the paperback to the antipathy the format aroused amongst publishers and booksellers, who failed to get off the ground a line of cheap paperbacks for the armed services in the middle of the war (302–3). But a larger part of the reason can be attributed to the impact of London publishers on the local book industry and their global arrangement with the United States, which made it easier and more economical for the local trade to organise around buying and selling rather than producing (Nile, The Making 37). One result of this context was that Australian publishers were poorly equipped to engage in the riskier economics of publishing paperbacks compared to hardbacks. The return on paperbacks for local publishers was narrower and the print run needed to make a profit was larger. The growing use of sale or return further increased the risk to publishers.
But Horwitz was already well-versed in the new format and the changes in sales and marketing associated with it, including sale or return, which it had been engaged in through Gordon and Gotch for the better part of the 1950s. Horwitz was able to deal with the low profit margin of paperback production and, with the help of its distributor, generate a profit out of a print run of 30,000 paperbacks. It also had the ability to place a broad list of titles in the market place at any one time in the hope that one or two, such as Carter Brown or its medical pulp series, would be major sellers. Thus, while mainstream Australian publishers approached the paperback with trepidation, by the late 1950s Horwitz was already in a position 'to test the local market carefully for the kinds of books that would sell quickly, as well as to build up his own stature with the paperback retailer' ('Gunfight to Hospital Bed' 9–10). The Name Author series was one example. The company was 'continually on the watch for books, which, having exhausted their public as hardbacks are worth reprinting as paperbacks' (Hetherington 22). And it was undeterred by whether or not a title had previously appeared in a British paperback edition exported to Australia, as Horwitz, 'believing their system reaches Australians who are missed by even the most efficiently distributed paperback published abroad, say their edition will more than justify themselves' (Hetherington 22).
Between 1960 and 1964, Horwitz re-published forty titles by the British paperback publisher, Four Square (Flanagan 40). It also entered into a short-lived arrangement in 1961 with Penguin to publish thirty-three of its titles in Australia, including work by John Wyndham, Graham Greene, Raymond Chandler, Dashiell Hammett and Agatha Christie (Flanagan 40–43). The unusual nature of the deal was highlighted by the fact that Penguin felt the need to put out a statement explaining it in an issue of the local trade magazine, Ideas About Books and Bookselling. The statement labelled the arrangement 'a marketing experiment being carried out by Penguin with the assistance of Horwitz Publications', which aimed to reach 'the mass market which regards reading as light entertainment, along with films, magazines, television and so on' ('The Paperback Front'). Penguin's choice to make the pulp publisher its partner was recognition that Horwitz had distribution networks and marketing that were ideally suited to the new environment.
What is in a name? The Name Author series and the unstable nature of literary reputation
The eclectic nature of the Name Author list was no doubt the result of the titles Horwitz could access within the constraints imposed by the London cartel and its international arrangements; what it could wrangle through its own international networks; and what it could afford. What the books had in common was, as the title of the series suggests, they were written by authors with well-established names.
Of interest is why successful authors such as Ruth Park and D'Arcy Niland would eschew Angus and Robertson, for all its faults in terms of being cautious and conservative in its choice of books, 'the only serious publisher' in Australia in the 1940s and 1950s (Priest 110), in favour of a publisher primarily known for mass-market, and often lurid, pulp fiction.
In her biography of long-time Angus and Robertson editor, Beatrice Davis, Jacqueline Kent writes that by the late 1950s, Niland was drifting away from his local publisher on account of the poor job they did with the rights to the 1957 film version of his bestseller, The Shiralee (1955) (141). Park also discusses her husband's growing disillusionment with Angus and Robertson, the Australian publisher of her own books. Despite the success of the 1957 film version of The Shiralee, she records that Niland only received a payment of one thousand one hundred pounds Sterling, while his publisher, who 'had skimmed off 20 per cent of the sale', refused to take legal action on the author's behalf to recover further funds (Fishing in the Styx 216–17). According to Park, between them Angus and Robertson's London office and William Morrow in the United States bungled the copyright registration of his novel, Call Me When the Cross Turns Over (1957) (218), leaving three film companies the opportunity to assume unguarded movie rights (222–23). With Niland recovering from a recent heart attack, it was left to Park to take legal action, a process that lasted three years. Park's memoir makes no reference to Horwitz, while Kent only mentions in passing that the botched Shiralee deal forced Niland to place the local publication of The Big Smoke (1959) with Horwitz (140).4 Jason Ensor maintains that Niland stayed with Angus and Robertson until 1962, 'when he made a break with the London office following its reorganisation by Walter Burns' as part of the maverick entrepreneur's restructure of the company's operations (97). This context, however, does not explain the 1959 Horwitz edition of Gold in the Streets.
It is well documented, including in Park's autobiography, that she and her husband were commercial writers. As Anne-Marie Priest puts it: 'They had to sell their work or they would be starving and homeless' (112). This attitude was formed in the context of the parlous financial state of authors generally in the 1940s and 1950s, including a limited number of literary journals and low rates of pay compared to outlets overseas (Priest 110). One result of this situation, according to Peter Kirkpatrick, was that writers had to orient themselves to popular journalism, a trend accelerated between the wars, when he argues that high literary journalism was replaced with a more tabloid style (98). In addition to their novels, Park's and Niland's output, for example, included short fiction, newspaper articles, radio serials, comic skits and verse. Park wrote for The Australian Women's Weekly and Niland, along with local writers such as Cleary, Ruhen and Xavier Herbert, contributed fiction to the risqué local men's magazine, Man. On top of whatever disillusionment Park and Niland experienced with Angus and Robertson, their commercial orientation makes it easy to envisage them taking the prospect of immediate payment from Horwitz – and my own research shows Horwitz paid promptly – for the rights to locally republish their books, even if it was in salacious pulp-style editions.
Park's and Niland's decision to place books with Horwitz reflects the growing importance of the paperback in Australia. This trend, already underway in the United States by the late 1940s, had resulted in heightened competition and advances for reprints (Davis 153). This development saw the emergence of the 'paperback original', spearheaded by Gold Medal Books after it was formed in 1950 (Davis 153). Other publishers picked up this innovation, and by 1955 one-third of all mass-market fiction was made up of original books, both genre fiction and so-called 'quality paperbacks' (Menand 2015). Between 1959 and 1960, dollar sales from paperbacks surpassed sales for adult trade hardcover books (Davis 266), and in 1961 Harold Robbins departed his quality hardback publisher, Knopf, to go to Pocket Books and his own paperback imprint (Bonn 20).
Horwitz could offer writers like Park and Niland a new audience for their writing via its reach into non-traditional outlets such as newsagents, railway bookstores and canteens. My research into Horwitz has not located a great deal of print advertising undertaken by the company in the 1950s and 1960s, the peak of its pulp publishing operation. The more or less guaranteed return on the publisher's paperbacks via Gordon and Gotch reduced the need for additional marketing. One exception is a series of full-page advertisements the company took out in The Australasian Post from 1960 to 1963. A popular weekly tabloid or 'barbershop' magazine (Griffen-Foley 36), The Australasian Post became increasingly racy in the 1960s, its traditional coverage of sport and Australiana supplemented with confession-style stories, celebrity gossip, true crime, as well as exposés into contemporary phenomena, such as juvenile delinquency and rock music, liberally sprinkled with pictures of bikini clad girls. Horwitz's advertising in this publication focused on its Penguin reprints and locally written pulp, but also gave considerable prominence to Park's entries in the Name Author series. One advertisement in the May 25, 1961, issue of the magazine (Figure 2) concentrated on the Horwitz edition of Poor Man's Orange. The emphasis on newsagents, as opposed to bookstores, is illustrated by the coupon, on the bottom right-hand side of the advertisement, that readers could fill out, clip and post to Horwitz with the name of the book or books they wished to order and the newsagent from which they would collect them.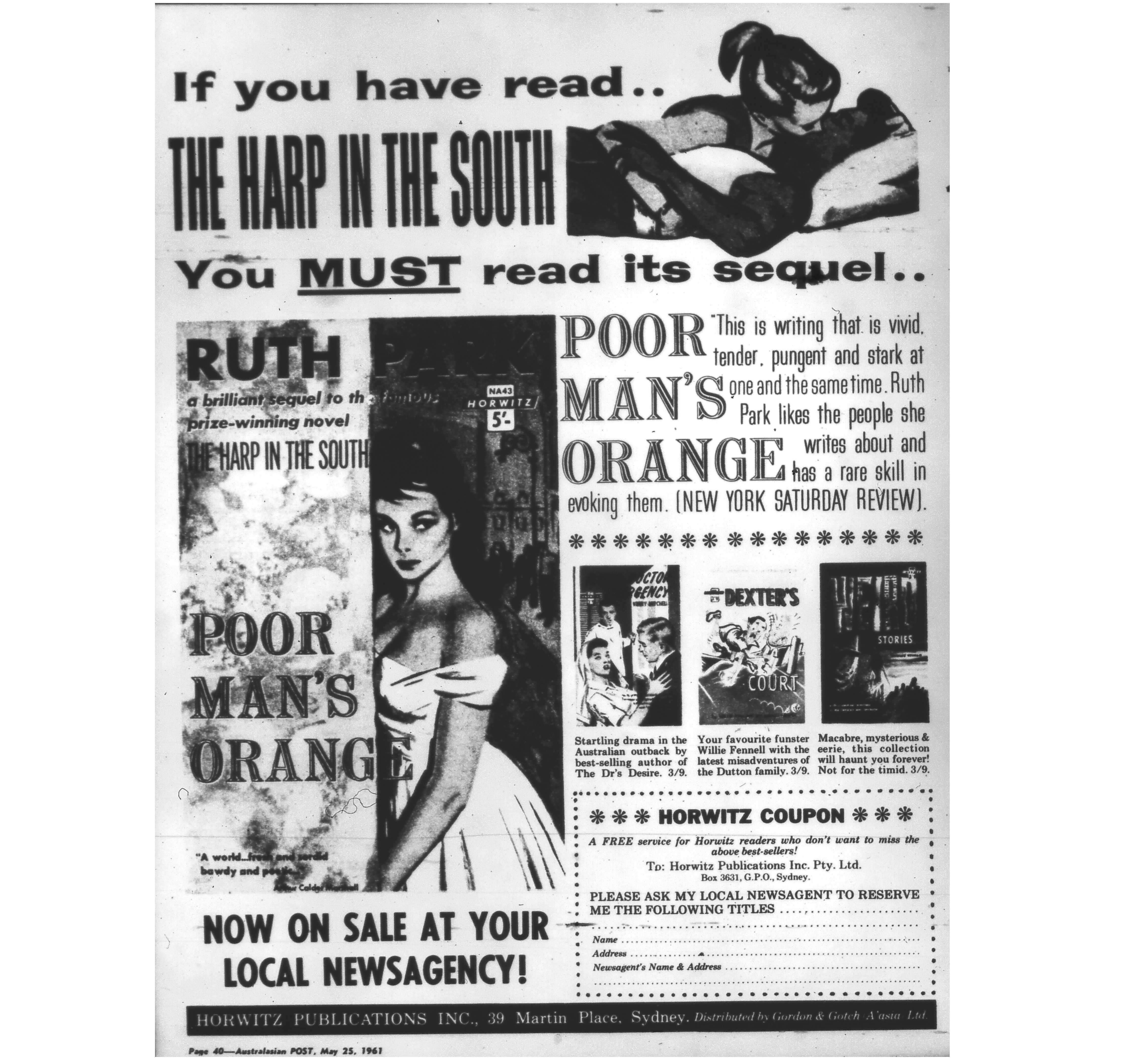 Unlike Conrad, the subject of Earle's work on pulp modernism, the degree to which Park can be described as canonical or even literary, as opposed to middlebrow or popular, is up for debate. In this respect, the Name Author series opens up an important lens through which to view debates over how the construction of Australia's literary canon has been constituted in such a way as to marginalise certain authors and types of writing. Priest asserts that despite its bestseller status, The Harp in the South is Park's most literary work, and 'constitutes a shared literary-cultural experience for a generation of Australians' (129). But its undoubted popularity – it has never been out of print – is in marked contrast to the scant critical and academic attention directed at Park's novels (Molloy).
In their chapter in The Cambridge History of Australian Literature, Richard Nile and Jason Ensor assert that for much of the twentieth century, the majority of writing about Australian literary culture focused on creating a local canon, which 'almost inevitably involved the search for the elusive Great Australian Novel' (521). These novels, they point out, existed largely within the minds of the nation's literary arbiters and consisted of 'Capital L' literature, mainly considered free from the constraints of the market. Katherine Bode discusses the ways in which efforts to construct a local canon have worked to marginalise certain types of writing (Reading by Numbers), and Susan Sheridan argues it was the very popularity of mid-century female writers such as Park, not only in terms of their adult fiction but also in their other writing endeavours, such as radio plays and children's fiction, that led to their lack of critical attention (42). Instead they, and the literary milieu in which they worked, was labelled middlebrow and led to their work being devalued and trivialised. Sheridan's view is reinforced by Nile's observation that the delineation between high and low culture commonly noted in industrial societies – the field discussed by Earle and Rabinowitz – was framed in first world settler societies like Australia as the gap between serious and commercial culture ('Literary Democracy' 130). Efforts to create a national literary culture were undertaken by a small group of middle class writers 'who proposed more discerning cultural insights than the industrialised masses' (131). High literary culture was thus viewed as a 'defensive wall against the peculiar mix of colonialism and commercialism which characterised Australia at the time' (131). Efforts to enforce a strict division in terms of literary reputation saw pulp authors such as Yates ignored, despite his significant sales, as were writers such as Niland, Cleary, Nevil Shute and the romance novelist Catherine Gaskin (Nile, The Making 521). Park could also be counted in this group.
Earle writes that 'popular reprints of Modernist classics, such as Heart of Darkness, especially those that categorize the work in specific genres, prove that not only is text unstable but so is reputation' ('Conrad Under Wraps' 49). Indeed, Earle's most controversial position is that it is a moot point whether we wish to categorise Heart of Darkness as a piece of genre fiction or high literature: the narrative of Marlow's voyage up the Congo River, his obsession with the mysterious ivory trader Kurtz, lent itself to being marketed as both exotic pulp sensationalism as well as literature (49). Bearing in mind my discussion of the dynamics underpinning the creation of literary reputation in mid-century Australia, and how these forces functioned to deny the importance of certain books in Australian literary history, Earle's argument is suggestive for thinking about some entrants in the Name Author series, particularly Harp. Indeed, the Horwitz reprint of this book shows that the fluidity around genre and reputation that occurred in larger markets such as the United States also took place here. It is a work by a prominent local author, released in hard cover by what was then Australia's most prestigious publisher and marketed in the realm of the bookshop as an important, some might speculate canonical, book. But a company that specialised in downmarket pulp paperbacks also published it, marketing its edition in the pages of a sensational tabloid magazine, and selling them in newsagents.
The way in which Horwitz's editions of Harp were presented further reinforces it as a local expression of pulp modernism. While the back cover of the 1962 Horwitz edition contains praise for the novel by prestigious international publications such as the Washington Post and the Boston Herald, the front depicts a man and woman in passionate embrace, she in an opaque pink negligée, one strap hanging limply from her shoulder and emphasising that the reader is getting a stolen peek into the goings-on of the slum buildings featured in the novel. The cover blurb also reinforces this sense of the illicit: 'A candid, revealing story of Sydney's seamy side . . .'. In much the same way as Signet did with its 1950 edition of Heart of Darkness, Horwitz mined the text of Park's novel, drawing on its most sensational aspects for the cover art: the squalid housing conditions, economic hardships, lost pregnancies and relationship difficulties faced by a large working class Irish Catholic family in 1940s Sydney, a depiction based on the real life experiences of Park and Niland, who lived for a time on a converted back veranda of an old mansion in inner Sydney (Priest 120).
These aspects proved controversial with some readers when the novel was first serialised by the Sydney Morning Herald in 1947. Rabinowitz refers to this process, common to the paperback editions of literary fiction, as 'cloaking', and she writes that it was designed make paperbacks seem as if they held secrets that could be discerned as much by scrutinizing the covers as reading between them (American Pulp 201). Niland's Gold in the Streets explored similar territory to Harp in the South, and, not surprisingly, Horwitz also gave the 1959 edition a similar cover: a semi naked couple embracing against a brilliant gold background and a blurb reading: 'A shattering novel of the immoral and innocent in an Australian slum'. The front cover of The Big Smoke featured an image of a naked couple locked in a passionate embrace against the backdrop of city skyscrapers, and the promise of: 'An emotional mirror of a big city where the good and the shockingly immoral struggle in a life of terrible savagery'.
Capitalising on shifts in censorship
The Name Author series provides additional insights into the operations of Horwitz in the context of the increasing prominence of the paperback. While local book historians have framed pulp publishers as largely operating in a 'discrete market' (Carter 365), or 'a separate economy from the mainstream book trade' (Bode, 'From British Domination' 26), the Name Author series illustrates that Horwitz, at least, was at the centre of a network of national and international commercial publishing relations and dealt with a large array of actors in the mid-century literary field, including local and overseas publishers, mainstream authors and agents. It is also noteworthy that at least seventeen of the books in the series had been made into big screen motion pictures, highlighting the company's awareness of growing inter-linkages between publishing and other media forms, and the potential of these to boost paperback sales.
Horwitz's focus on broad reputation in proven commercial genres, irrespective of whether or not the author in question exhibited literary credentials, is also evidenced by the publisher's decision not to accept one book for the series, namely the second novel by New Zealand born, Australian-based writer, Jean Devanny. Published in the United States in 1935, The Virtuous Courtesan was prohibited for import by Australia's Book Censorship Board the same year, and remained so until 1958 when a number of works were removed from the banned list due to reforms of Australia's censorship regime. A 'frank portrait of bohemian sexuality in Sydney's inner city', the book has been described as having 'the most radical sexual politics of all the Australian books banned for obscenity in the 1930s, and indeed challenges many of the books banned from around the world' (Moore 146). It includes a sympathetic portrayal of male and female homosexuality, cross-dressing, 'regret-free, self-administered abortion', brothel scenes in which the police trade protection for sex, and the depiction of a sexual relationship between a Catholic priest and an aging prostitute (Moore 146–47).
Once the novel was removed from the banned list in 1961, Devanny approached Horwitz about republishing it. Carole Ferrier's biography of Devanny cites correspondence in which the author even advised the publisher that she was willing to substitute a religious schoolteacher for the priest or to cut the character out completely, but nothing came of it (308). The timing of Devanny's correspondence with the publisher certainly corresponds to the period in which Horwitz was looking for Australian works for the series. Devanny's radical politics might have put off Horwitz: she was a Communist, and under Australian Security Intelligence Organisation surveillance at the time of the Horwitz exchange (Ferrier 308). Perhaps the book's content was too explicit for Horwitz, but this seems unlikely given the series featured Walford's lurid serial killer tale, Twisted Clay, Gresham's sex drenched, noir take on Depression-era America, Nightmare Alley, and Caspary's dark psychological thriller, Bedelia. The most logical explanation is that, having been banned in Australia after one overseas publication, Devanny was not enough of a name and The Virtuous Courtesan too little known for the publisher to take the risk.
The Virtuous Courtesan reveals another aspect of the Name Author series worthy of brief examination: the way in which Horwitz took advantage of regulatory changes in the publishing field. In this instance, it was the partial liberalisation of Australia's censorship system in the late 1950s, which saw the list of banned books made public and significantly reduced in size (Moore 220–23). Twisted Clay was one such unbanned book, which Horwitz picked up and published in 1960, and again in 1962 (Figure 3). A first-person account of a young female psychopath, it includes the protagonist's burgeoning awareness and enjoyment of her lesbian sexuality, multiple murders (including that of her own father), sex work and suicide, making it a far more shocking read than Horwitz's usual pulp fare. T. Werner Laurie in the United Kingdom first published Twisted Clay in 1933, followed by New York publisher, Claude Kendall, in 1934, and in both places it had been reviewed and reportedly sold well. Copies circulated locally in the two years between its first overseas publication and its local banning in 1935, the first book explicitly prohibited in Australia 'for homosexual conduct' (Moore 43). The Horwitz cover was no doubt designed to emphasise the main female character's sexuality, with a blurb that promised the reader: 'An explosive novel of strange passions'.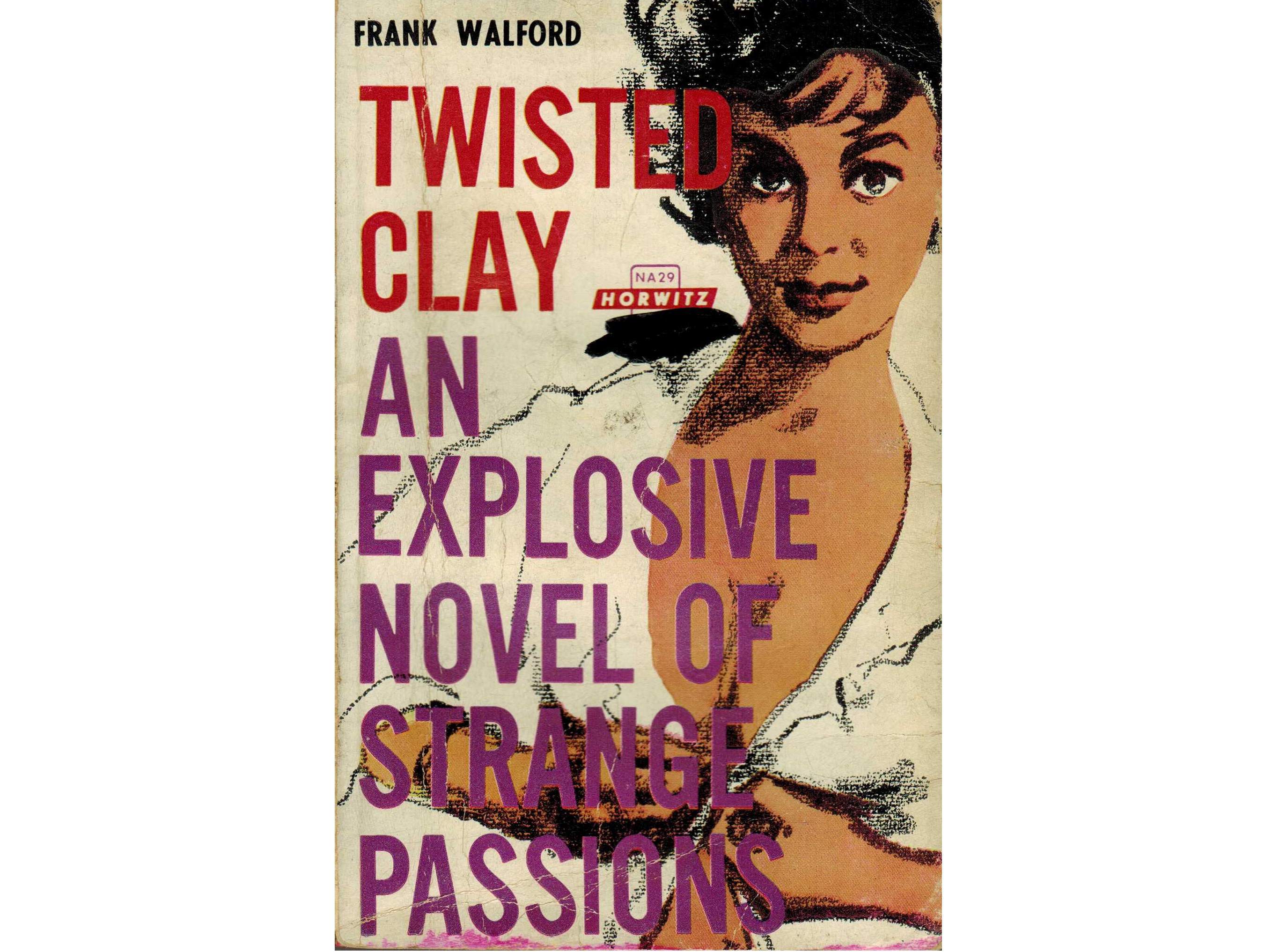 Close's Love Me Sailor, prohibited in 1951 and released from the banned list in 1960, was another prominent local book Horwitz published in 1962 and again in 1964. Set on a merchant navy ship trading guano between Chile and the United States, the novel dwelt on the disruption to the all-male crew environment when an attractive English woman comes on board for the journey. It was perfect material for Horwitz, combining a highly sexed plot with a lingering whiff of scandal. Originally published in Melbourne by Georgian House in 1944, it sold out its first and second print runs before being the subject of a highly publicised court case in which Close and the publisher were prosecuted for obscene libel. The novel was also a bestseller in France, England and the United States. The Horwitz edition of Love Me Sailor is just one of many pulp editions of Close's work. Popular Library in New York published it in paperback in 1952 and a Pan Books edition appeared in the United Kingdom in 1960, both of which featured bold colour covers that played up the most salacious aspects of the story, with the cover blurb for the US edition stating: 'Thirty men vowed they'd have her'. In 1963 Horwitz reprinted two other Close novels, The Dupe, first published in hardcover by Georgian House in 1948, and Eliza Callaghan, an historical novel about a young convict woman in early settler Australia. The Horwitz cover of Eliza Callaghan depicted a couple embracing with the text: 'Untamed – a hot blooded woman whose passions exploded in the degradation of an Australian convict settlement'.
Horwitz's marketing of Love Me Sailor and Twisted Clay announced the books' banning. The back cover of Twisted Clay contained the text: 'Just released from the banned list' in bold red letters. The front cover of the 1964 edition of Love Me Sailor proclaims: 'Now you can read the controversial book acclaimed as one of the great Australian novels of our time!' And the inside front cover contains a publisher's note in large point font, stressing that the author,
was sentenced to a gaol term and his publisher fined following a Victorian Supreme Court Judgement that Love Me Sailor contained obscene matter. On appeal, the High Court substituted a fine for a gaol sentence. The Customs department subsequently banned the overseas edition of the book.
The fact that Horwitz played up the allure of these books did not stop the company from making editorial changes. Horwitz editions of Love Me Sailor and We Were the Rats were:
edited to remove, or reduce, the danger that either book would give offence. Readers sometimes mutter that Horwitz Publications editions of such books bear no indications that they are abridgements of the original and that this is a breach of faith by the publisher, but complaints of this kind appear to leave the firm unmoved. (Hetherington 22)
Correspondence from Walford's papers indicate that Horwitz offered the author the standard advance of a hundred pounds and seven and a half per cent of all money earned from the sale of the book. 'It may be necessary to tone down some of the more startling passages', wrote Horwitz editor Anne Oxenham to Walford, 'but editing would be very slight indeed'.5 When Horwitz re-released We Were the Rats, it was without the chapter in which the characters discuss their reading of Saucy Stories (Kent 65). Whether the Horwitz staff realised the irony of what they were doing – a pulp publisher excising the section discussing the lure of pulp – is not known. In all likelihood, given the pressures of the busy publisher's production deadlines, the decision was taken quickly and without debate. Glassop's views on the matter, if he had any, are also unknown.
The Name Author series provides a framework through which to view the changing dynamics of mid-century Australian publishing and the little-examined interface between pulp fiction publishing and prominent Australian authors. Yet, the series raises as many questions as it answers. How did authors such as Park regard the pulp editions of their novels? Who read the books and what influence, if any, did these pulp editions have on public perception of her and others' work and reputations? The one clear conclusion to be drawn from the research relates to Horwitz: the important role the company played in helping to pioneer the uptake of the paperback and the adeptness with which it sought out and exploited the porous and disputed space that existed between the literary, the popular and the pulp in post-war Australia.