Coming at a what is arguably a trans- and post-national moment, a study of Irish-Australian literature runs the risk of being misconstrued (as a nationalist manoeuvre, which it is emphatically not), and might be thought of as ill-timed, even quixotic (Jacklin). The collocation Anglo-Celt, problematic for the homogenisation entailed, continues to bedevil such an enterprise. Mapping such a field offers opportunities for identifying and analysing a body of work that has not yet insisted on its difference, significance and substance, or registered its internal political tensions. It gives its analysts the opportunity to acknowledge that Irish-Australian writers have been rendered almost invisible through a combination of choices and assimilationist processes. In foregrounding such a body of work, literary critics may find themselves engaging in reverse decolonising manoeuvres, where, by an historical anomaly, the coloniser becomes, not the British, but a nascent (and ebulliently nationalistic) Australian literary tradition too ready to assimilate Irish writers into its tradition and overriding difference. I point to two different periods and strategies of literary nation-construction: the first in 1890–1940 in which writers were key, and the second from 1950–1980 when critics, often familiar with the Irish literary tradition, were shaping and defining the field of Australian literature as a component of a larger tradition in literary studies. Postcolonial literary studies, when it began to emerge in the 1980s, further reconfigured the Australian literary tradition, and Ireland's status as an early exemplar of colonialism and resistance to it has potential salience for the proposed study. To separate for scrutiny a group, Irish Australians, previously assimilated into the mainstream is to operate a unique lens for deconstructing and complicating the Australian literary establishment's naturalisation of 'the nation', and its control by a British professoriate in the nineteenth and for much of the twentieth centuries (Dale). Such a study has the potential to reconfigure the field of Australian literature and seeks other traditions within and beyond it. At this historical moment, such a study also needs to locate itself in a vastly more adaptive, cosmopolitan and complex world of intersecting and transnational cultural affiliations. It invites a critique of the invention, performance and consumption of nationalisms in multiple cultures which have drawn from one another, positively and negatively, and differently over time, in contested ways.
If we understand Irish-Australian literature to include writing by those who are Irish by birth or descent, those who draw on Irish heritage in Australia, and as well those who find the Irish literary tradition a useful reference point for their own writing, the field nonetheless remains difficult and complex to map. This article cannot resolve all the issues and is intended as a discussion starter. Compiling a database of possible inclusions begins with the application of two crude, wide-mesh filters: the Australian Dictionary of Biography (1966–) (ADB) for birth and descent, and the online database AustLit (2002–). The former dictionary lists heritage by bloodlines and the latter database (since its establishment in 2000) by self-identification. Searching by place of birth in the AustLit database records Irish- and Northern-Irish born, listing 285 authors born in Ireland or Northern Ireland.1 AustLit also permits artists (including Australian-born) to declare their cultural heritage affiliation (some do; many Australian-born writers do not, raising the question of the extent to which writers engage with AustLit). Australian identity, for those born in Australia, is the unstated default in AustLit. However, if one searches all Australian-born writers by cultural heritage, only fifty claim Irish cultural heritage, and it is curious that so few Irish-Australian writers claim more than one cultural heritage, even when it is a significant part of their writing identity (for example, Richard Flanagan, Gerard Windsor, Christopher Koch and John Kinsella, all at least sometimes self-consciously Irish-Australian writers, do not). Among Australian-born writers, a surprisingly high proportion claim both Aboriginal and Irish cultural heritage, a point to which I will return below. The ADB uses descent in assigning cultural heritage but, as I will argue, such a methodology is not recommended as a basis for the proposed study unless supported by internal textual evidence and/or deployment of the matter of Ireland, or mobilisation of the Irish literary tradition. The ADB is problematic for writers who died in 1991 or subsequently, as the dictionary includes subjects only after their death, and the selection process at present has reached 1991–2000, excluding as yet many twentieth-century writers.2 My hand-made selective working database of Irish-Australian writers, far from systematic or complete, numbers one hundred and eighty and it grows: there are likely to be many more who may qualify for inclusion.3
What is striking about the Irish who migrated to Australia is how quickly they became 'invisible', especially in the first generation, foregrounding their 'Australianness', and relegating their Irish affiliations to the past.4 Religious and racial discrimination and cultural prejudice, and pushback from the Irish themselves by the mid-to late-nineteenth-century (Malcom and Hall 22–23, 30–36, 43), possibly provided motivation for their discarding of the markers of Irish culture, though there are undoubtedly other reasons for their enthusiastic uptake of Australian identities. They were often co-opted for an assertive Australian literary tradition which closed its eyes to any differences between 'white races' and 'English speakers' in the rush to define the new literature in the 1890s.5 Such radical makeovers make writers harder to identify as Irish-Australian, differentiating them from the American Irish who often retained their ethnicity as a migrant group.
Australian-born Daniel Henry Deniehy, arguably Australia's first serious, even professional literary critic, is a good test case. His parents attempted to enrol him at Oxford or Cambridge at the age of fourteen. As a Catholic, he was ineligible, so he instead sat at the feet of Young Irelanders in the 1840s, learning radical land politics (which as a Member of the Legislative Assembly, he translated into reformist land legislation in the New South Wales parliament in 1859), republicanism and nationalist literariness, and he assembled an extraordinary library. Despite the European Grand Tour which substantially Europeanised his already Hibernian thinking, he declared himself an Australian (though his contemporaries styled him as Irish) and was committed to building an Australian literary tradition, reviewing Australian literary publications alongside American and European works in the colonial press.6 He was Charles Harpur's first significant reviewer and lectured on him, an early reviewer of Geoffrey Hamlyn, and regularly wrote essays about Australian poetry, drama, travelogues, keeping matters of aesthetics firmly in view. There is no enacting of a cultural cringe in him (Devlin-Glass 1974). Deniehy is an outstanding example of an Irish-Australian litératteur who took inspiration from Young Ireland's methodologies and used literary journalism and the forum provided by the burgeoning Mechanics' Institute movement for nation-building within Australia in the 1850s and 1860s. He belonged to a coterie of writers, the Stenhouse Circle in Sydney, some of them Irish, who professed Australian literature, seeing themselves as the vanguard of a new literary movement.
In this paper, I propose to use six tables which dissect the larger database of Irish-Australian writers in various ways, to indicate both the richness of a lode that has not yet made a claim to separateness, to discuss the complexity of the decisions to be made as to whom to include or not, and to canvass possible shapes for a literary history of Irish-Australian literature. The paper asks more questions than it can settle. Knowing what a potentially broad field Irish-Australian literature may constitute, it takes the view that finally the reasons to include or exclude lie in the texts themselves. It is concerned to raise methodological questions which might suggest reasons for inclusion but does not claim to be definitive.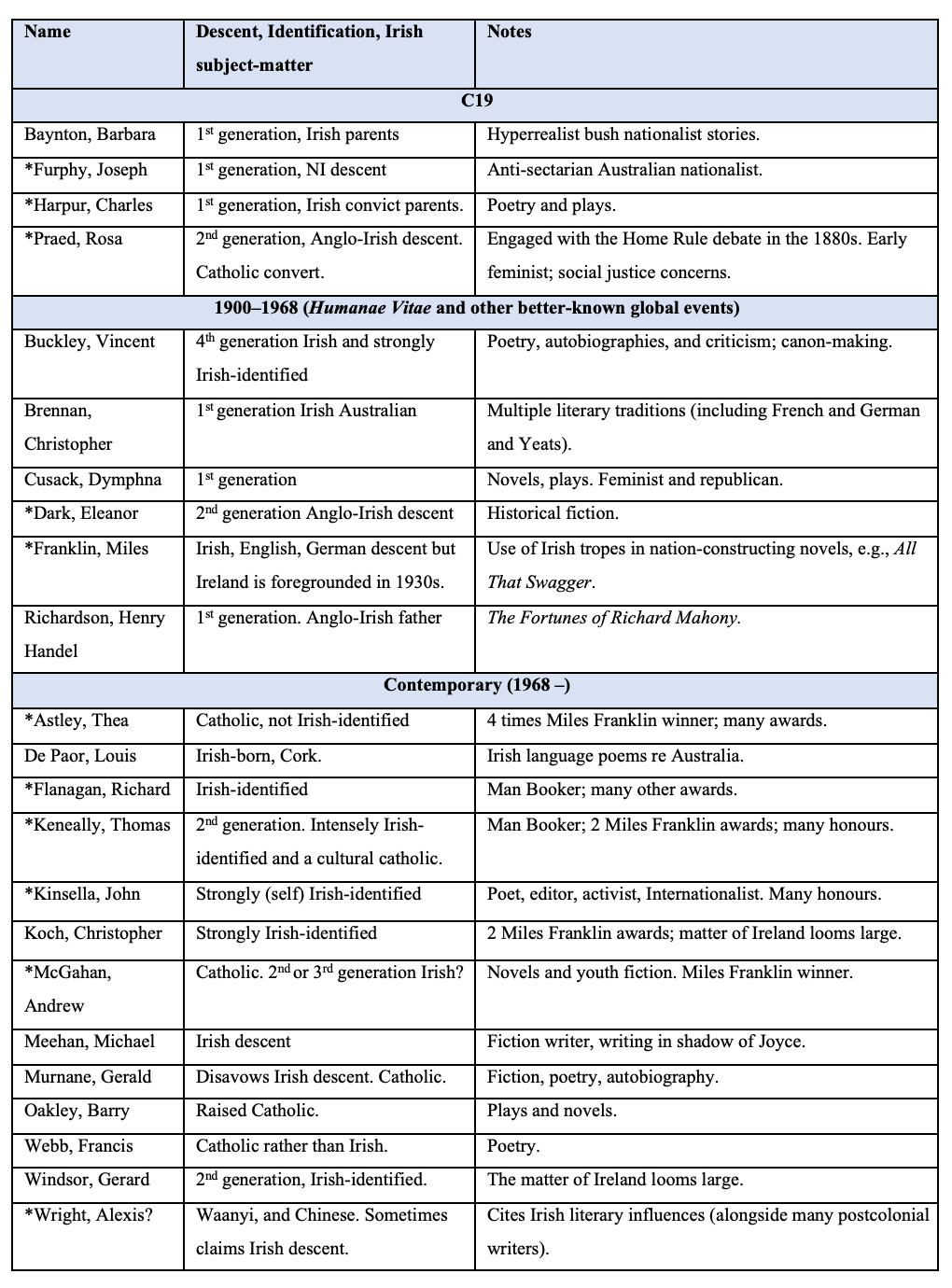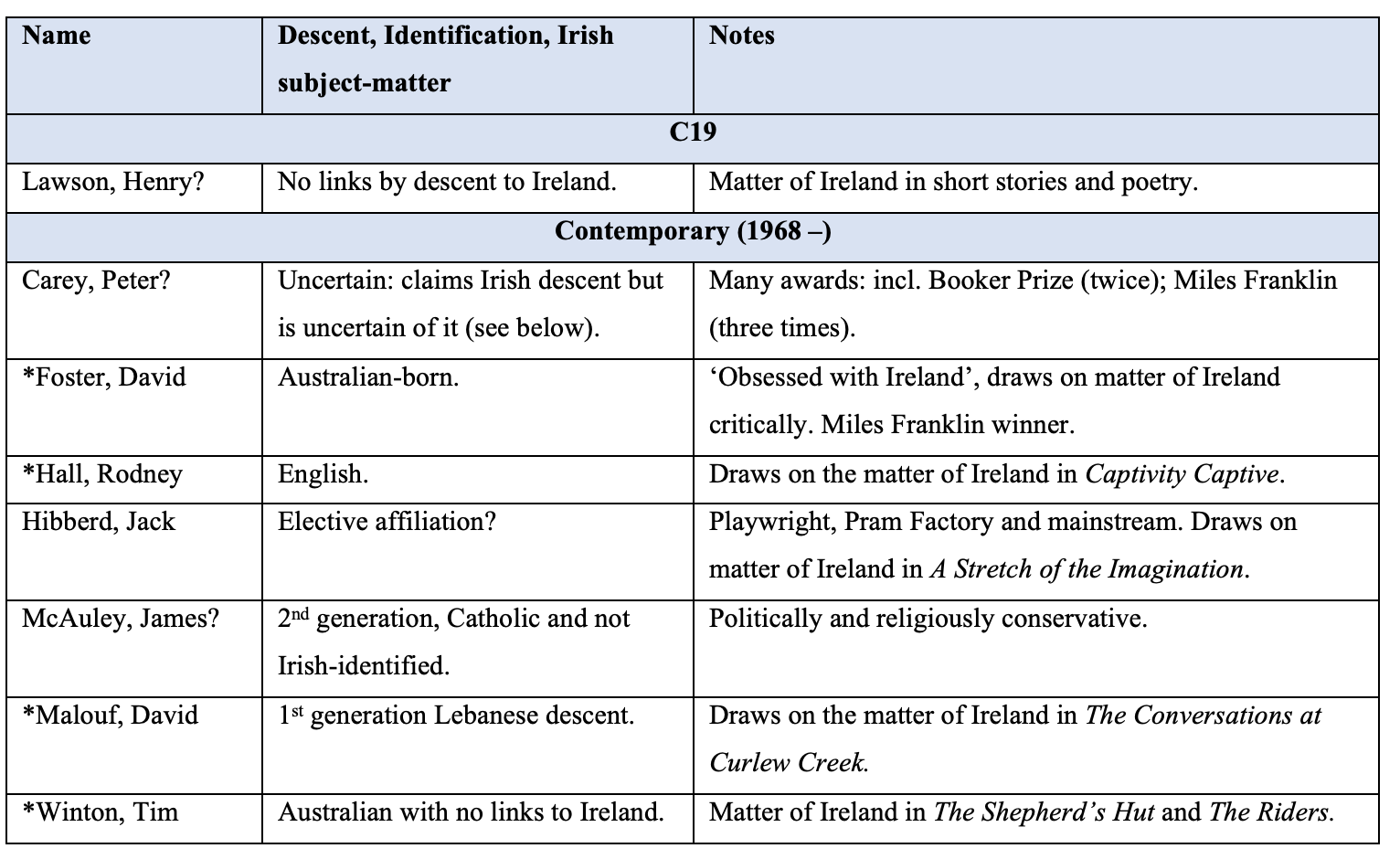 Tables 1 and 2 require defence. They are not offered as an Irish-Australian canon in any sense, though I admit to exercising aesthetic judgment. It is a selective list, but it includes some (probably) canonical writers in terms of either their literariness (definitionally hazardous) and/or their mobilisation of the matter of Ireland, whether positively or negatively. By the matter of Ireland, I intend a convenient shorthand for deployment of the body of oral and written Irish literature, images, tropes, history and politics, and the accumulated symbolic powers of the word Ireland itself.7 Column 2 in both tables is admittedly a problematic filter. Quite a number of those listed are second, third, fourth or even fifth generation Australians and questions need to be asked about whether or not they identify as Irish-Australian and, if so, why they continue to do so. The legitimacy of listing them, especially if they do not proclaim themselves Irish-identified, invites the more significant questions of how and why they deploy the matter of Ireland in their writing. Can we sensibly talk of learned and enduring ideological orientations, dispositions, or are these essentialising moves that arise out of race discourses popular in the nineteenth century and beyond (O'Day 317–18)?
Knotty questions arise as to whether writers like Lawson, Malouf, Winton, Foster, Hall and Carey (Gleeson),8 not of Irish descent but who engage with the matter of Ireland (see Table 2), can perhaps be seen as constitutive of an Irish-Australian imaginary. Rutherford (2000) argues that Tim Winton in The Riders (1994) illegitimately deploys a mythologised and dehistoricised version of the matter of Ireland to erase Aboriginal dispossession, but a different case might be pursued as to whether Ireland furnishes a parallel for Aboriginal dispossession and a way of owning the violence and guilt of that. A second example of a sustained engagement with the matter of Ireland is Carey's True History of the Kelly Gang. In an interview with the Irish Times at the time of publication of Amnesia, Carey said (perhaps jokingly and certainly opportunistically) he thought as a child he might be descended from 'Baptist reformers or Irish traitors, so I stopped looking' and that he 'would be "flattered and thrilled" if [True History of the Kelly Gang] were claimed as an Irish novel' (Gleeson). This novel (which won multiple national, Booker and Commonwealth prizes) owes much to the vibrancy and passion of the Irish-Australian voice it imaginatively inhabits and amplifies, that of the sub-literate Ned Kelly of the Jerilderie Letter. The vignette of Whitty selling his soul to the Devil could emanate from a gothic Irish folk-tale:
Said Whitty to the Devil I want you to make honest men of lawyers.

Now as you know, the Devil is a coal black thing and he does not have skin but scales so when he hears what Whitty asks those scales turn pale the colour of this ash here. I can't do that says the Devil. O you must says Whitty. I can't says the Devil if I did that I would be idle from one week's end to the next and never a coal to warm myself. (Carey 88)
Literary ventriloquism is its own tribute to the eloquence of Ned's vernacular dictated letter. It is a litany of stock-standard, internally and historically coherent, Irish peasant grievances and of religious and political beliefs derived from songs designed to inflame political grievances. The novel is a potent exploration of what it is to belong to an ethnic group that has been criminalised, and has a kinship with Australian 'battler' stereotypes.
A very different turn to 'Irishness' is that of David Foster. A magic realist version of 'Irishness' manifests in his fiction after winning the Suspended Sentence James Joyce Award and a scholarship to the Dublin Joyce Summer School in 1997 in the aftermath of publishing The Glade within the Grove.9 In this novel, mythic Irish heroes and heroines find strangely cosmopolitan bedfellows in a hippy commune in Far East Gippsland, in defence of ecological agendas. Subsequent novels make intensive use of Irish literature, and Sons of the Rumour in particular engages in a literary pilgrimage which pays tribute to the Book of Kells, Bram Stoker, Shane McGowan (of the Celtic punk band, the Pogues) and Seamus Heaney, as part of a wider treatment of the history of intellectual life in Christianity, Islam, Judaism, Taoism, and Hinduism (Lever 95–96). It is worth investigating why in any era, a writer not of Irish descent might deploy 'Irishness' or the matter of Ireland in the Australian context and what cultural purposes are served by it. I would suggest that such writers, linked with Ireland less by blood ties and more by cultural ones, might be treated as a discrete (and heterogeneous) subgroup within Irish-Australian writing.
Those who identify as Irish are the least controversial to list on a database. They demonstrate the very different liminal spaces that the diasporic writer may inhabit and warn against homogenisation of the category Irish-Australian writing. While Gerard Windsor and Christopher Koch both identify themselves in their novels' subject-matter as Irish-Australian writers, the less-familiar Windsor has a far more intellectually critical and ambivalent perspective on Irish culture than the two-times Miles Franklin winner. Koch's romantic 'Irishry' is heavily drawn from other sources,10 and his The Many-Coloured Land (2002) takes much of its colour from Irish political ballads, populist history and myth. His writing strikes a note of nostalgic sentimentalism more often heard in nineteenth-century Irish Australia.11 Walking on the Hill of Howth, above the Irish Sea, he registers that the light is like that of Hobart:
I'm in Ireland, yet not in Ireland; in a zone where north and south miraculously mingle.

[. . .] I'm nearing the top of the hill.

And here are the territories of the Sidhe [. . .] To say that I've seen this place before would be wrong. Rather, I've expected it. Earlier landscapes in my life – landscapes which resembled it – have merely been its heralds: its distant, imperfect variations. [. . .] It was called Lutana; but Lutana was only its phantom. Now, here is the true rise [. . .]

There, where the real world ends, the four other worlds begin: the world of the Sidhe, the Many-Coloured Land, the Land of Wonder, and the Land of Promise. (Koch 2002: 119–20)
The rhapsodic tones of the diasporic Australian are aimed at those who share this romanticisation of Ireland, and underwritten by 'Celtic Twilight' Yeats. Koch draws on school histories of Ireland and polemical political folk balladry for much of his history and is moved by victim narratives in a way the tough-minded Windsor is not. Windsor's novels (in particular, That Fierce Virgin, 1988, and I Have Kissed Your Lips, 2004), by contrast, occupy a liminal zone in which he transforms his own experience of living in Ireland into something new and transgressive, especially perhaps to Irish readers (who were then more deeply immersed in Catholicism than Australian readers). In the former novel, Windsor posits a loveless encounter between a religious goods salesman and an Irish doctor who procures a new lover and an abortion annually, and having 'strain[ed] and mash[ed] the loins out of [him]' demands, post-coitally, of her current disposable consort, an Australian holy picture salesman, 'We could have the Magnificat', she mused. 'Always appropriate when the Virgin has conceived . . . We could do with a bit of trumpeting. Give us the old One Hundredth' (That Fierce Virgin 9).
The writing is sacrilegious and knowing, blending fertility myth and Christianity in surreal and satiric ways as Windsor uses the Catholic doctrine of the Annunciation to negotiate a contemporary meaning of incarnation and the changing power balance between (secular) men and women in second wave feminism. Both Koch and Windsor demand attention, and each performs his 'Irish-Australian-ness' in markedly different modalities.
Other Irish-identified writers, such as Thomas Keneally and Richard Flanagan, are of interest for literary and cultural reasons. Their subjects are sometimes specifically Irish but often not, and their oeuvres are marked by commitment to social justice issues and other political and environmental causes. While Irish-Australian writers do not have exclusive claim to writing out of a social conscience, it is noteworthy that social justice issues, especially in relation to Indigenous people and to class issues (an index perhaps of perceived subaltern status in Australian society), is common in this cohort as it is in much contemporary Australian writing.12 Catholicism often functions as an index of 'Irishness' in texts, but is not a necessary condition of it, though they are often tightly linked. And the varieties of Catholicism on offer are various and nuanced. As already noted, some of the writers listed in Table 1 privilege their Catholicism over their 'Irishness'. Is it possible that the combination of being educated separately (in Catholic schools), and becoming aware of one's own group's marginalisation and subaltern status, fosters a postcolonial resistance that takes the form of championing other subalterns such as Eritreans, Jews or Aborigines? This brings me to one of the under-read significant writers I would want to include but am hesitant to do so. One knows Thea Astley to be an (elective) Far North Queenslander even before she is an Australian, and that, were she able to elect her cultural heritage, she might well refuse the label of Irish-Australian, though her novels are peopled by Irish Catholicism-refusers like Lizzie who 'had fled the rough-pawed attentions of [a] selector' in favour of prostitution, and when reminded by another prostitute that:
'Saint Philomena died rather than. That's what I read, anyway. Our house was full of improving literature. Didn't the nuns tell you about her? I'm sure they would rather you'd died in the horse shed, slowly starving away.'

'Well, more fool her', Lizzie said. 'Saint Philomena, that is'. (It's Raining in Mango 55)
Educated by the Irish Sisters of Charity and the Mercy nuns, Astley was a feminist early in second wave feminism, and her fiction is preoccupied as well with race and colonialism, especially in relation to massacres of Indigenous people. She has her dreamy Celtic journalist, Cornelius Laffey, hear, on arrival on a 'Paradisal' island in Far North Queensland in 1861:
[T]he sound of rifle fire as officious colonisers showed the indigenous people what's what in a ratatat, idiot anticipation of another civil war half a world and half a week away . . . . (It's Raining in Mango 19)
Setting up his broadsheet to deliver 'a gossipy farrago' of entertainment as well as 'ferocious political complaint he imagined new settlers expected', Cornelius realised '[h]e was wrong . . . His sympathy for the dispossessed blacks infuriated the eighty settlers left in town and someone threatened to horsewhip him' (It's Raining in Mango 1–2). It is possible that insistent feminist and anti-racist agendas may have been influenced by proto-feminist nuns, although, paradoxically, the target of her satire is often the Catholic church itself. Her distinctive hyperbolic comedy and satire, like Flanagan's, appear to be germane to her politics and literary modus operandi, a part of her subaltern Catholic legacy perhaps (and a resistant response to anti-Catholic sectarianism). It is a question to which I will return in discussing Tables 5 and 6 below.
Another tradition that links Windsor's, Astley's and Flanagan's fiction is the particular quality of their satire: all write extravagantly hyperbolic comic novels, surrealistic in execution. In his analysis of the convict system in Gould's Book of Fish, Richard Flanagan offers a stunning example of fantastical grotesquerie which exemplifies, perhaps, a transplantation of the Irish comic tradition, as defined by Vivian Mercier's groundbreaking The Irish Comic Tradition (1962). Key to that tradition is deployment of the fantastical, the grotesque, the hyperbolic, and pushing comedy to its extremities. Gould's Book of Fish details the monstrosity of the penal system from the point of view of its underbelly, the convict class, offering trenchant parodies of Victorian discourses, engaging in metafictive and deconstructive feints, as well as making a foray into a form of magic realism involving watery transformations throughout the novel, featuring the phenomenon of humans becoming fish:
And here, on the evening of my seventh day as the Surgeon's servant, when, for the amusement of my fellow villains, I was sketching a crude caricature of the Surgeon naked, the most astonishing thing happened.

The Surgeon grew a dorsal fin.

[. . .]

Capois Death laughed.

I resumed my task momentarily, resketching his eyes as big mournful orbs behind which a gill began sprouting. Then a bulbous scaled body grew outwards from behind the eyes, the over-inflated entirety of which I covered in wild slash strokes to resemble small spikes, & at the end of this prickly football a tail could be seen protruding. (Gould's Book of Fish 136)
In Flanagan's hands, convict history is given a contemporary angle, suggesting that the malign influence of this legacy lives on in the DNA of Tasmanians (Devlin-Glass 179–84), situating it in a genealogy inspired by Swift, Sterne, Joyce and possibly Flann O'Brien. Such a tradition is especially trenchant in the manner in which it treats embodiment. Irish-inflected satire in Australian writing promises to be a productive seam to mine.
Insofar as 'Irishness' persisted as a cultural formation in Australia until the arrival of European Catholics after World War II, the link with Catholicism was often what made it visible, especially to outsiders (Malcolm 208). 'Irishness' and a Catholicism which is often resolutely liberal and anti-institutional13 are key elements of self-formation in second-generation Thomas Keneally, and he repeatedly draws attention to his Irish heritage. The matter of Ireland is referred to even in works in which it is not centrally the subject matter.14 However, increasingly through a long career, histories other than Irish-Australian have been inventively deployed in his fiction (or rather, 'faction'), and he has defined himself cosmopolitan in his ethnic sympathies (writing works about Eritrea, the American Civil War, Antarctic exploration and the Maid of Orléans). Keneally is a product of an Irish diaspora that inhabits a global world. However, thematic threads between novels set in different periods and geographies are often underwritten by his 'tribe's' sense of Irish history, and in particular, the actions of genocidal colonial governments. Hunger, poverty, voicelessness and social marginalisation have increasingly engaged his writerly talents since the writing of The Chant of Jimmy Blacksmith (1972), giving his work political impetus rather than a focus on personal moral and existential angst which had marked his early career Miles Franklin Award-winning novels, Bring Larks and Heroes (1967) and Three Cheers for the Paraclete (1968).
Keneally by mid-career was probably the most visible Irish-Australian writer of his generation, and a prodigiously industrious, research-based storyteller. Paul Sharrad has carefully documented the many ways in which Keneally has suffered at the hands of the Australian literary establishment for pitching to audiences (especially in Europe and America) other than the local one, in an attempt to compensate for bringing to a professional writing career no working capital other than a degree in moral theology from a seminary and 'blissfully' ignorant of the difficulties of making a living from writing (20–22, 201–02).15 Peter Pierce (and Sharrad himself) notably dissent from the pervasive criticism of Keneally's cosmopolitan turn, his turn to genre fiction and historical novels, and the judgment that he is overly facile as a storyteller (202). Sharrad notes too that he is not as often taught as White, Carey and Malouf (202). To what extent has it been a career liability for Keneally to be identified as Irish and Catholic? In a letter in 1972, Patrick White expressed animus towards him on the basis of his Catholicism, grudging his grants and success: 'It really pays to have been brought up in the Roman Catholic Church . . . every lousy Australian writer seems to be a lapsed Catholic' (405, and see 494–95). Even in the hands of sympathetic scholars like Sharrad, one catches a hint of the 'quaintness' of his Irish identification when he refers to Keneally as 'the jolly leprechaun of Australian literature' (Sharrad 3) and one wonders if this descriptor betrays a more entrenched set of prejudices in the non-Irish Australian community at large. What seems clear is that, despite claims that he has sought fame as a commercial middle-brow writer, he has never relinquished his claim to be a literary practitioner (Sharrad 155). The abiding thrust of his corpus is a concern with complex moral and social issues, a stance which, given prevailing literary critical priorities, ought to have achieved more traction than it does. He, too, is a jocoserious writer, less waspish and satiric than Astley or Flanagan, and ranging more broadly for his subjects than they do.
Table 1 lists a selection of impressive poets, beginning with Charles Harpur, who, unembarrassed by his Irish convict parents, was Australia's first serious poet, studying Wordsworth and Shelley in order to render the Australian landscape in its inescapable visual and tactile difference from the European vision of his models (Wright 1–19).16 The cosmopolitan and philosophical Christopher Brennan in the early twentieth century drew on more contemporary models in Yeats and the European Symbolistes, to explore, in poetry and essays, what twenty-first century Irish-Australian poet John Kinsella identifies as his sense of rupture from place (the fear of not belonging), his bourgeois sexuality ('fear of the dentata and the sexually "unresponsive" female and female self'), and anxiety about spiritual conviction in the climax to Brennan's Poems 1913, 'The Wanderer' (Kinsella). In the mid-twentieth century, Vincent Buckley, like Brennan and unlike McAuley, wrestled with his Catholicism, finding himself unable to accept Humanae Vitae (1968) (McLaren 197). He turned to his Irish heritage and aesthetics to compensate and, like Brennan and Joyce, naturalised the substitution. With John Kinsella, an eco-poet, the wheel has turned full circle back to minute observation of a micro-environment and disquiet about living in a country that has been founded on Indigenous dispossession.17 All of these poets – Harpur, Brennan, Buckley, Kinsella – are arguably foundational in the Australian literary canon, and invite interrogation specifically as Irish-Australian poetic practitioners.
Joseph Furphy's Such Is Life, published not long before Poems 1913, is important for many reasons, the least of which is its debt to Ireland, but it does, self-consciously, owe a literary debt to Sterne's Tristram Shandy (Croft 4, 8, 43, 59, 87–88, 96, 162). Furthermore, Furphy transcends his separatist Protestant upbringing (his family styled itself 'improved Irish') and critiques, at great, and for many readers tedious, length the Unionist Whig historian W. E. H. Lecky in the rewritten Chapters 2 and 5 of Such is Life. Intimately linked to that analysis is his representation of the marriage of the O'Hallorans in Chapter 5. In addition to a powerful extended polemic against sectarianism in Chapter 2 (Furphy 57–61 and see Devlin-Glass 'Orangeism'), Furphy subtly dramatises a mixed marriage (56–60). Rory O'Halloran is the hapless husband of a Protestant who is a '[g]ood woman in her way' but one who 'spends her time in a sort of steady fury' (56) with him and her lot, and their differences cost them a beloved child. Furphy, using a suite of double-entendres, has his unreliable narrator Tom affectionately and dim-wittedly sum up Rory's Irish antecedents, missing the class implications of the facts supplied:
Soon our acquaintance ripened into intimacy; and I learned something of his history. Like the majority of us, he was the scion of an ancient family. He was the youngest of eleven, all surviving at latest advices well (glory be); two remained in their native hive, with full and plenty (Amen); whilst he and his brother Larry had staked their future on the prosperity of Australia (God help us).

His father must have been a man of wealth and position, as he apparently spent his whole time in following the hounds, shooting pheasants and catching salmon, with the other gentlemen. But just before Rory left home, his father and mother had withdrawn from society. And here the narrator's sudden reticence warned me not to inquire into the details of the old couple's retirement. (57)
The 'must have been' assumptions made by Tom point to Furphy's deep knowledge of Irish conditions, and the reasons for Rory's emigration. Derived from a source he mines well (Lecky), Rory may himself have followed his parents' calling and been exported at British expense. Despite Furphy's description of the novel to J. F. Archibald as 'temper democratic; bias offensively Australian' (Barnes and Hoffmann 28), Furphy is not only a cornerstone of nineteenth-century Australian literature, but his critique of sectarianism, one of the most urgent cultural issues in the last quarter of the nineteenth century in Australia, has not often been marked. It makes him and his Shandyesque manner of narration, unique in Australian fiction, of both cultural and literary interest to a study of Irish-Australian writers. That he is the only Australian writer (excepting Irish-born Charles Gavan Duffy) alluded to in detail in Finnegans Wake is another curious index of a transnational flow in the Irish direction.
Perhaps the most unexpected inclusion in my list of significant writers is Alexis Wright and this needs defence. Clearly a writer of major international and Australian significance, she is a woman educated in Cloncurry (remote north-west Queensland) at primary level by the Sisters of St Joseph (an Australian order founded by Mary McKillop, but one inevitably immersed in an Irish Catholic matrix). When I first reviewed her masterpiece, Carpentaria (2006), little was known about her background other than her Waanyi (far North Queensland Indigenous) identity. Increasingly since then, this intensely private writer has disclosed more of her cultural affiliations: I was unsurprised to see her talking more about her Chinese grandmothers, but extremely surprised to see her claiming her father's 'Irishness' (he died when she was five). These family influences are placed alongside a raft of anti-colonial Irish writers, including Joyce, Heaney and Brian Friel (in particular Field Day, a cultural and political literary and theatre initiative in Northern Ireland18) whom she repeatedly cites as her own literary legacy and as influential in forming her (Wright 2007, 82, 83, 92, 95n). Her novels would suggest that her Aboriginal identity is primary, and that in her resistance to colonialism she seeks affiliation with many postcolonial world literary traditions (mainly in South and Central American and eastern European cultural traditions), and significantly, Ireland's is among them.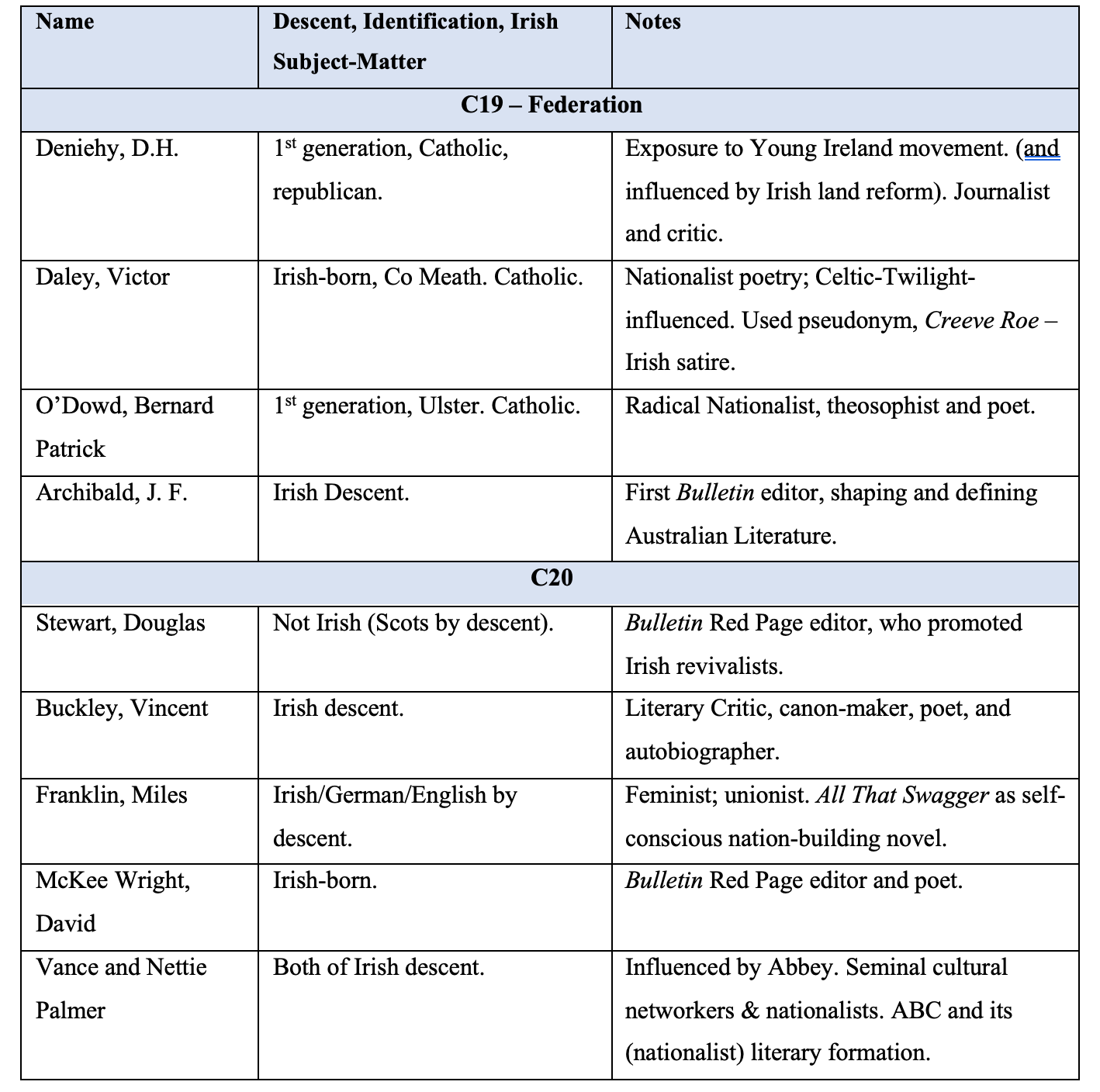 Tables 3 (above) and 4 (below), considered together, raise the question of the very different kinds of cultural work being done by Irish-Australian writers in the nineteenth and twentieth centuries, which can in part be explained by changing emigration patterns (Malcolm and Hall 5–8 and passim).19 In compiling these tables, I have sought as much contrast and texture as possible, hoping such organisation might be generative and suggest genealogies. What emerges from both lists are writers self-consciously engaging in cultural constructivism in the nineteenth century, and later, in the second half of the twentieth century, would-be canon-makers for Australian literature. A question to resolve is whether Irish Literary movements – the Young Ireland movement of the 1840s and its successor, the Irish Revival of the 1880–1920 – might both have constituted potent models for culture-building. We know that a large number of Young Irelanders came to Australia. I have mentioned Deniehy, the homegrown Young Irelander, but another Young Irelander's memoirs, Charles Gavan Duffy's My Life in Two Hemispheres, and convict John Mitchel's Jail Journal might take their places in any history of Irish-Australian writing. In the 1920s, Louis Esson's little theatre movement, The Pioneer Players, was self-consciously modelled on the Abbey (Fitzpatrick 29–34).
Table 3 reveals a disproportionate number of Bulletin editors, to which one could add another, Douglas Stewart, Irish by affiliation, who promoted Irish Literary Renaissance practitioners in the Bulletin. Again, the list is not comprehensive and the project of documenting Irish-Australian literature might well consider essays and literary criticism, biography and autobiography.
Other later canon-makers of Australian literature who might not be particularly visible as having Irish cultural affiliations include Miles Franklin: fifth generation and of mixed German, English and Irish ancestry, she appears in Table 3 mainly for her work in generating transnational multi-way-flows of ideology. In her work as a unionist and feminist, she took Australian ideologies to the United States, United Kingdom and Ireland (interestingly visiting Ireland in 1919 and meeting key unionists and Sinn Feiners, among them Jim Larkin and Arthur Griffith). It was not until the 1930s, and in her novel, All That Swagger (1936), published in the lead-up to the sesqui-centenary of white settlement in Australia, that she co-opted her Irish grandfather's story for nation-invention work in Australia (Devlin-Glass 2011). This novel is fascinating for the depth of its Irish cultural referents, deployed both nostalgically and ideologically, and its insistence on women's place in a hyper-masculinised national imaginary. 'Irishness' in this text is coded independent, hard-working, arty, eco-spiritual, colour-blind (though its claims to liberalism in matters of race are compromised), and dismissive of upper-class pretensions and money. Other inclusions in Table 3 are Vance and Nettie Palmer, crucial in building the conditions for a national literature via their writerly networks and in building the Australian Broadcasting Corporation's cultural profile in the 1940s and 1950s before Australian Literature was properly on school or university syllabi. Like Miles Franklin, they too spent time in Ireland studying the Irish Literary Revivalists.
Documenting Irish-Australian literature has rarely been attempted, except in short essays by Gerard Windsor and Brian Elliott. Windsor's 1983 essay on Irish-Australian writers defined the field too narrowly by restricting it to writers who dealt with the matter of Ireland (often in sub-literary nostalgic ways) (209). Brian Elliott makes a similar mistake (61–70). However, Windsor makes a potent point when he draws attention to how, in Around the Boree Log (by 'John O'Brien'), markers of 'Irishness' become metamorphosed into markers of a quintessentially Australian 'type'. One could push this insight much further and argue that Irish-Australian writers are heavily implicated in the construction of battler narratives at the core of the vernacular convict and bush nationalist traditions. Furthermore, Tables 3 and 4 indicate a high density of literary nation-constructors, a particular focus for writers from the 1890s until the 1960s, in both the critical and creative fields.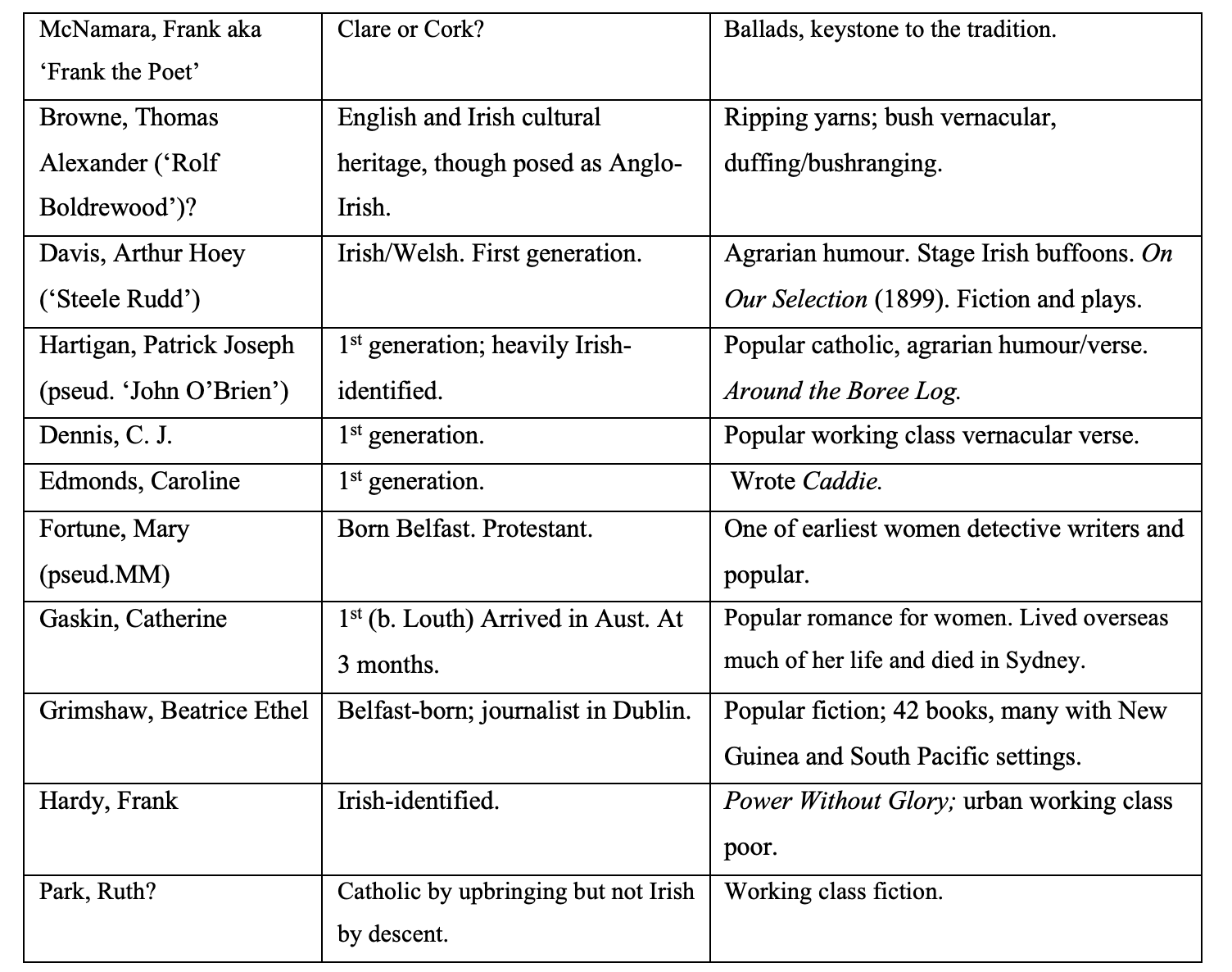 In addition to immensely popular writers about the rural poor, like 'Steele Rudd' and 'John O'Brien', 'paddy-whackery', stereotypes of 'Irishness' relished for their comedy, of a benign variety is to be found among urban working-class poets and fiction writers who generated and perpetuated related cultural stereotypes, the Battler and the Larrikin – C. J. Dennis, 'Criena Rohan', and Frank Hardy. It would be worth exploring how the tropes of 'Irishness' generated in the immensely popular railway novels of Charles Lever (depicting the peasantry as gay stage Irishmen – blundering, outlandish, whimsical, witty, feckless), Samuel Lover's Handy Andy, or the parodic songs of Percy French, created a taste for such representations of lower-class life in the Australian context (Healy).
Tables 5 & 6 : Indigenous Writers and Writing about Indigenous Australia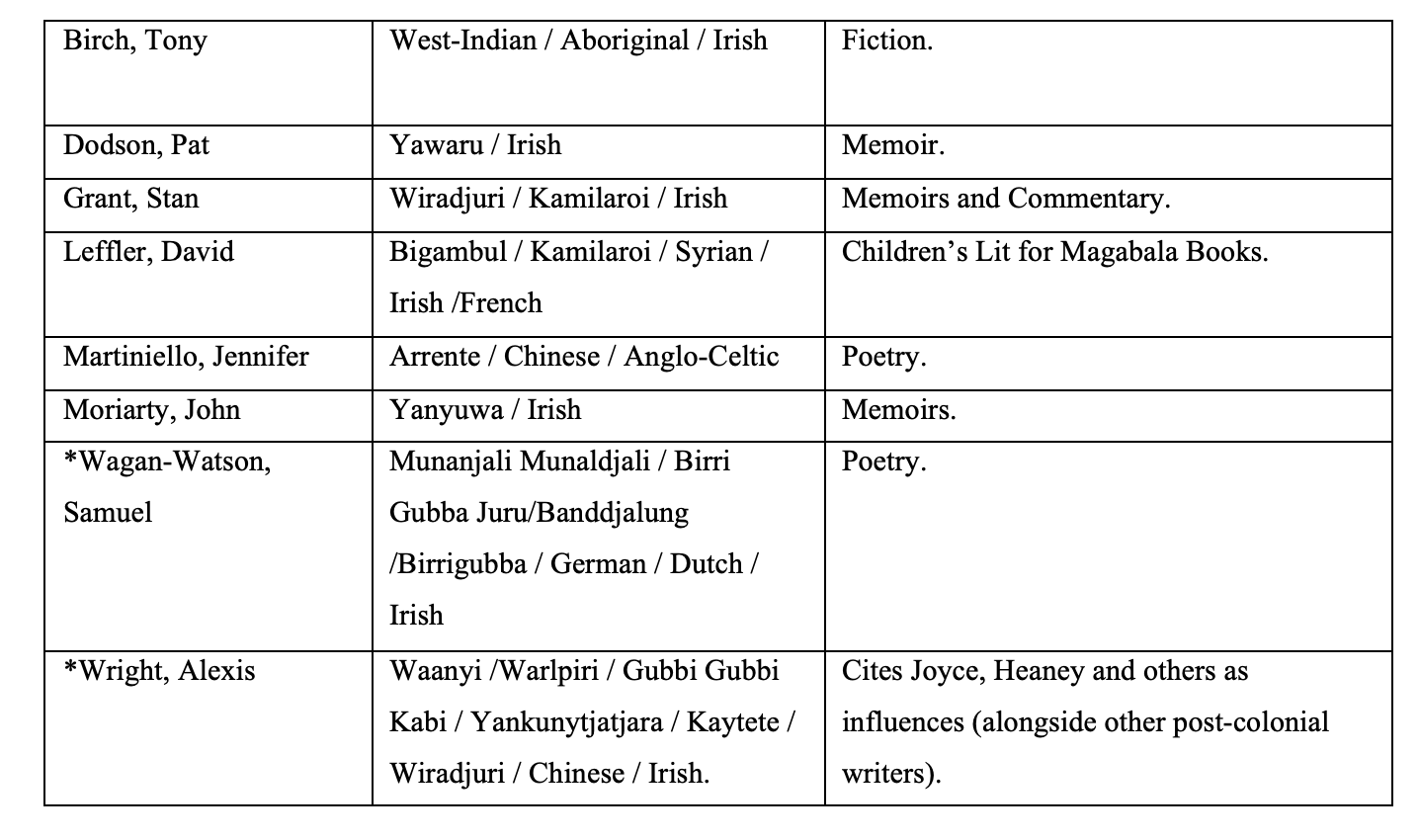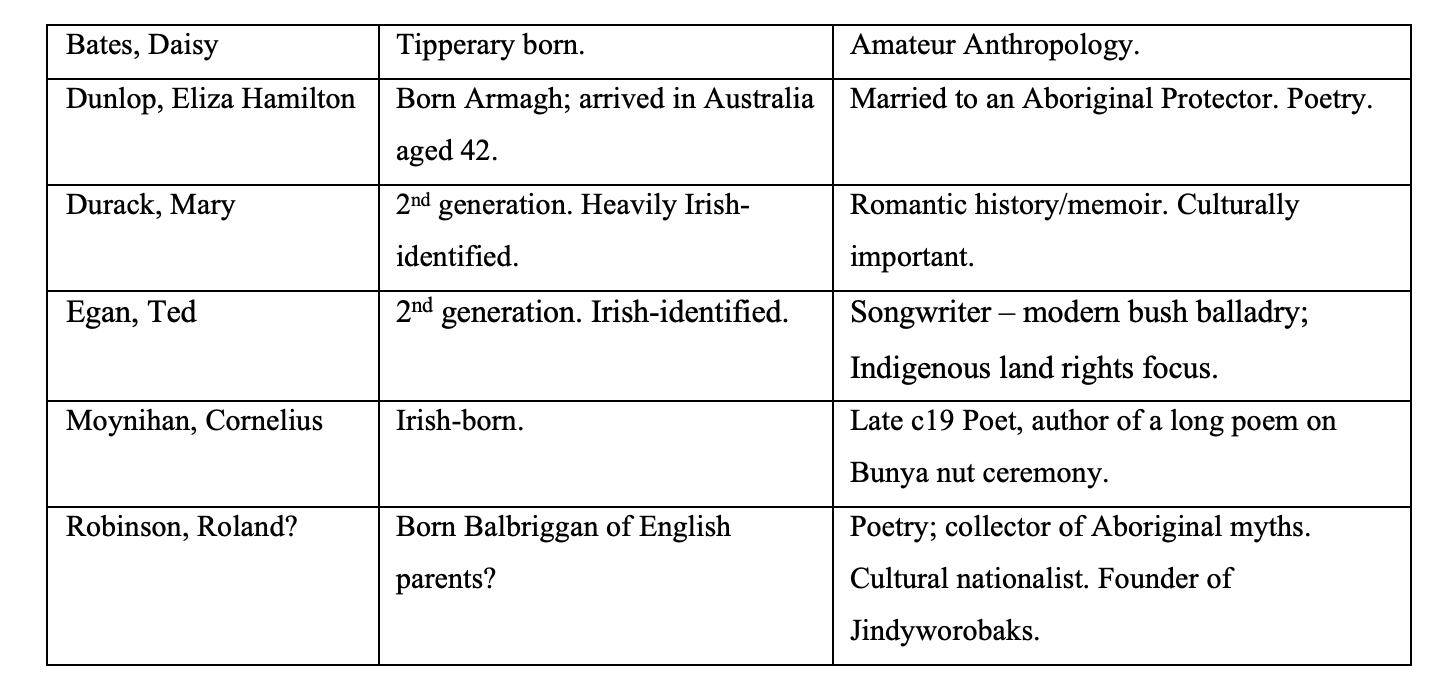 To turn briefly to Tables 5 and 6. I am struck by how many Indigenous writers claim Irish identity (and there are surely more who could but do not),20 and also how many Irish-Australian writers have worked on the matter of settler dispossession of Indigenous peoples (see also asterisked names in Tables 1 and 2). Whether it is because writers as a group, and literary writers in particular, are generally better-educated than the run of citizens, this literary cohort often (but not always) may provide a counterbalance to Elizabeth Malcolm's and Di Hall's bleak-ish and finely tuned assessment, in A New History of the Irish in Australia. They argue that, contrary to the romantic belief that a dispossessed people would not act harshly towards another such culture, the Irish were as implicated as English colonisers in the violence of colonial dispossession (Malcolm and Hall 48–72). They also note that some were capable of cultural relativism and egalitarianism. The seductive appeal of 'rebel' Irish models of postcolonial resistance may be operative in Irish-Australian writers – from Harpur, via Dunlop and Furphy, to Astley and Flanagan in the present – who often engage in thoughtful, nuanced advocacy and progressive ethnography, but also among Indigenous writers. A curious finding of this study is the astonishing number of Aboriginal writers who claim Irish cultural heritage in the AustLit database: among the small group (numbering only fifty including one who claims Anglo-Celt as cultural heritage) of Australian-born writers who claim Irish heritage, sixty-one percent of the group of literary practitioners21 cite Irish heritage in addition to their Indigenous heritage (which they usually privilege). Curiously, most Australian writers who are not of Aboriginal and Torres Strait Islander descent do not claim Irish cultural heritage, even when in their writing they explicitly deploy it. To some extent, this anomalous statistic seems to be explained by AustLit's data collection methods: those born in Australia do not need to claim a cultural heritage as it is taken for granted. If born in Ireland before authors self-identified (from 2000), they are automatically assigned Irish cultural heritage. Indigenous writers can assume they will be understood to be Australians, but they also usually list their Indigenous culture(s) by name, a matter of some pride, and having claimed their nation(s), may feel more comfortable especially if of mixed background, to claim other identities as well. Is it possible that 'Irishness', as one of many strands of cultural identification, is more readily aligned with resistance to colonialism and for that reason has cultural cachet within Indigenous communities? It is another matter for investigation.
Potential Shapes for a Study of Irish-Australian Literature
Finally, having demonstrated the range of texts we might denote as Irish-Australian and the complexities of discerning such texts, I wish to posit suggestions about what kinds of studies the Irish-Australian archive appears to invite. Because the 'field' that comprises Irish-Australian Literature necessarily rests on the discernment of internal textual markers of 'Irishness', it will be contested, asymmetrical, inclusive, unfinished and never definitive, and could usefully evolve via an online database (possibly on AustLit). The mere existence of a field of study of this sort, however, once defined and made visible, will very likely complicate the Anglo-Celt collocation, revealing less homogeneity than has been assumed in mainstream and canonical versions of Australian literature. Such a study also invites the possibility of examining the many performances of 'Irishness' deployed across the generations, and the tensions inevitably at play within a heterogeneous group. It will permit exploration of the ways in which Irish diasporic identity and global identity have morphed and are feeding one another in a post-national Australia.
Equally, the archive might invite a literary history which examines generational continuities and discontinuities. Why is it, for example, that Irish-Australian writers are so well represented among cultural nationalists in two major phases of literary invention, and did Ireland perhaps furnish models for such culture-invention work? The 1890s in Australia coincided with, for example, the Irish Literary Renaissance, and this in turn impacted on Douglas Stewart's editorship of the Bulletin during which he foregrounded what was being published in Ireland. It is worth knowing in more detail what notions of nation have been resisted, hybridised and adapted. A transnational study might tease out the extent to which Irish-Australian literature is responsive to historically significant events in Ireland, for example, the Great Famine, Fenian activity, Easter 1916, the Civil War, the Northern Irish 'Troubles', Ireland's inclusion in the European Union and the 'Celtic Tiger' phenomenon. Other Irish diasporas, especially the American and Canadian ones, might yield comparative insights about the changing nature of Irish identifications in the nineteenth and twentieth centuries, on such matters as responses to historical events in Ireland, or the promulgation of Humanae Vitae. The anti-Catholic novel, might be a potent field for examining how religion and ethnicity are represented in the period after 1968 and whether, after the 'Celtic Tiger' and church scandals, Catholicism continues to be a more potent category than 'Irishness'. The strength of the popular fiction and poetry archive suggest that many thematic foci might be generative: migration and memory, the politics of land ownership, the Irish as libertarians/resisters/conformers, transnational flows in feminist and socialist thinking, compliance and resistance to Catholicism.
Socio-geographical considerations might provide another focus. Are there significant regional differences, especially in Irish 'ghettoes' such as the Darling Downs, Warrnambool/Port Fairy, and Melbourne?22The convict experience in Tasmania may well be handled differently from works from Moreton Bay (Queensland) or Sydney. The role of the book trade, especially books emanating from the large American diaspora, but also from Ireland, in keeping these diasporas engaged has already been to some extent analysed by Patrick Buckridge and Kevin Molloy, and it would be worth knowing if such publishers tend to homogenise their offerings, or assume a homogenous readership or conceive their readership as gendered. Dymphna Lonergan has established the ways in which the Irish language has infiltrated Australian English, and the small but growing cohort of Irish speakers and poets in Australia that are published in Australia and read in Ireland and around the world. It is a phenomenon that is unexpected in the twenty-first century and an index of persisting affiliation in an era when many minority languages are endangered (Noone 183–85).
In short, documenting Irish Australia appears to be a project for many hands and multiple projects. Analysing an evolving Irish-Australian imaginary for a population that is skilled in assimilating promises to be energising and challenging, and to cast significant new light on a previously invisible cohort of Australian writers.