Myra Morris (1893–1966) was a prolific author of poems, short stories, novels and children's books. Best known for her short stories, which were published in a wide array of Australian periodicals, Morris's novels have been less celebrated. This essay considers The Wind on the Water (1938) set at 'Four Mile' in the Victorian Mallee region, which was serialised in the Australian Women's Weekly and as a popular ABC radio broadcast after publication. Due to its generic romance elements, the novel's quietly radical critique of the cruel subjection of women and animals has been largely overlooked by scholars. Reviewed widely at the time of publication, and reprinted in 1960, we argue that The Wind on the Water is of special significance to an understanding of the literary history of the Victorian Mallee.1
The following essay examines The Wind on the Water, alongside a selection of Morris's stories, to position it as a crucial ancestor of contemporary Mallee novels. It will begin by tracing Morris's literary life and the popularity of her work at the time of its publication, before moving to a discussion of The Wind on the Water and Morris's short stories as 'Mallee works' that brought a critical eye to the rural life of women, particularly, but also saw complexity in the Mallee environment and engaged with themes beyond a narrow geography. Her writing was received by large readerships at the time, making Morris a writer of influence, despite her location on the edges of the Australian literary canon. Finally, we will bring our understanding of Morris's novel into dialogue with the responses elicited from a series of book group discussions of the text with local Mallee readers. When discussed with these research book groups, as part of the pilot project 'Reading/Writing the Mallee', we found that The Wind on the Water offered a springboard for discussion of women's intimate relationships, class dynamics in small towns and considerations of inheritance. Although it was over ninety years old at the time of these sessions, readers of different genders and ages tended to identify closely with the novel's protagonist and her thwarted efforts to find fulfilment and create a better future for her children. Conversations arising from the novel also flagged points of awkward silence invariably around the founding of the Mallee and the violence against human and non-human others that this entailed. What emerged, too, was a nuanced and complex picture of the Mallee that speaks to the ways in which stories – and their perpetuation – contribute to the ongoing life of places.
Morris was born on 15 May 1893 in Boort, the daughter of English-born Charles William Morris and his Victorian-born wife Bessie Lily, née Sydenham. The family lived a peripatetic existence due to the demands of Charles' grocery and produce businesses, which were located at Allansford, Warrnambool, Rochester, Maldon, St James and Camperdown. Morris spent her formative years in different rural towns before settling in Frankston with her parents. In the 1940s she suffered a nervous breakdown and was granted a Commonwealth pension. In her later years she became crippled with Paget's disease which affected her ability to socialise as widely. A Christmas card she sent to a friend named Eleanor with a 1960 edition of The Wind on the Water strikes a sad tone: 'I've had this for a couple of weeks to send you. You've been so kind and so sweet & the rotten luck is that you discover me at a time when everything is glum and screwy. However – "tout passé"'.2
She published her steady output of stories and verse in major Australian journals, newspapers and popular magazines including the Argus, the Lone Hand, the Australian Women's Mirror, the Herald, the Australasian, the Register, the Age, the Weekly Times, the Advocate and many more (Jordan). In addition, Morris undertook some book-reviewing and editing and wrote essays. A profile in the Australasian following the publication of The Wind on the Water notes: 'Despite the success of her novel, Myra Morris prefers the short story as her vehicle, and as a short-story writer she probably leads Australia to-day' ('Myra Morris' 42).
Morris's contemporaries included Doris Capel Kerr (or 'Capel Boake'), Jean Campbell and Marjorie Clark (or 'Georgia Rivers') and Marie Pitt (De Lacey). Doris Kerr was a close friend and is often mentioned in her letters to composer and author Louis Lavater (1867–1953). Kerr and Morris were published in the same poetry anthology, Little Track and other Verses (1922), near the start of their respective careers, along with Cecil Doyle, Bernard Cronin and Gertrude Hart. They worked hard as exponents and practitioners of Australian writing through organisations such as the Bread and Cheese Club, the P.E.N Club, the Society of Australian Authors and the Federation of Australian Writers ('Doris Kerr as "Capel Boake" Adds Lustre' 44). In 1949, Morris wrote an engaging introduction to Boake's Selected Poems which was published posthumously. Despite the painful loss of her friend Doris, Morris had an energetic social life until her activities were curtailed by advancing disability. Katharine Susannah Prichard visited her in Frankston while she was staying with her sister Beatrice Bridge. In a tribute written before Morris's death, when she was walking with a cane, Prichard remembered her as she first encountered her, as 'a fascinating girl with dark hair tossed about her head and wide blue-grey eyes. So vivacious and witty, she was, gaily describing her experiences and the writing she was doing'.3
Mallee Born and Bred
Regional literary history – and indeed national literary history – tends to privilege autochthony, or location of birth, when it comes to considerations of reputations and canonisation. In her article 'From Nation to Network', Caroline Levine argues literary scholars make certain choices based on a 'logic of autochthony':
. . . as long as the author is born in the right space, and the text born at the right time, there is no question of proper belonging. All other claims to inclusion must be defended and explained, but not the birthplace of the author or what I call the 'birth-time' of the text. (651)
Due to Morris's birth in Boort in country Victoria, the scant critical writing about her tends to link her firmly to it, despite her adult residence in Frankston, an outer suburb of Melbourne. This is something that our project reproduced but also wanted to explore, and test the limits of, by discussing Morris's text 'in situ' with groups of Mallee readers. Would they also embrace Morris and The Wind on the Water as a 'Mallee', or 'Boort' novel?
In 1927, Morris was tied in first place with more established Mallee poet John Shaw Neilson in a popularity poll by the Melbourne-based Argus. Demonstrating a national interest in the poll's outcome, E. M. England writes in the Brisbane Courier:
In a plebiscite recently taken by a Melbourne paper I was surprised and pleased to observe that several readers honoured the living by voting for many of our present-day poets. On that occasion 85 votes were allotted Myra Morris, who deserves the popularity she is undoubtedly finding. (24)
This poll was undertaken when Morris only had two book length publications to her credit − a modest volume of poems, England, and other Verses (1918), and a children's book, Us Five (1922) − suggesting that her short fiction and serials had a wide reach.
Writing about Morris in newspapers suggests that she was 'qualified' to write of country people and places given her early life experience: 'True, she left Boort while still a child, but has what is an essential to a writer, a complete knowledge of her scene, for much of her life has been spent in the Victorian country' ('Myra Morris' 42). As Levine contends, the focus on immediate local experience 'ignores all kinds of traveling and deracinated influences: cultural shapings that come from afar' (653). The equation of birth with belonging is powerful, appearing to be the 'natural' order of things, yet it is very restrictive when it comes to the exploration of literary texts.
Morris's work was certainly not confined to representations of the region where she was born. Most of her works were circulated outside of the Mallee, except for 'The Place of Birds' which was published in Mildura's Sunraysia Daily in 1922. The Wind on the Water was also promoted in the Mallee-based Ouyen Mail's 'Weekly Book Discourse' column. Derby Clonard's enthusiastic promotion of the novel in the Ouyen Mail reminded readers about Morris's connections with the Mallee, but this may have been forgotten once the newspaper ceased production in 1941.
Morris told friends that she produced The Wind on the Water very quickly, writing night and day for nine weeks, while staying at a distance from the busy household she shared with her parents. She wrote to Lavater about her struggle to find enough peace and quiet to pursue her writing, with so many visitors at her family home in Frankston. At the end of this process, she remarked: 'I'm emerging from my hole at last, feeling very much like a badger who has been too long underground'.4 Her correspondence with Lavater provides insight into the ever-present tension between her sporadic 'pleasure jaunts' and her writing deadlines, especially when she has to cancel engagements via letter in order to focus on her literary 'programme'.
Her epistolary exchange with Lavater also tells us much about her self-identification as an author. In an undated letter, she informs Lavater that she 'had a bit of luck' with the (now defunct) S. H. Prior Prize for Australian literary fiction: '(not won it, oh dear no, but in the first six!). There was a first prize, a second & a third: these three books are Highly Commended. My "Wind on the Water" was one of these three and will be published by the "Endeavour" (or "Bulletin") Press'. She reflects on the unreliable nature of literary awards: 'I know these competitions are not very significant - there's a terrific lot of luck [about?] them . . . However, I feel that [the] book is good - though it is raw and incomplete as well'.5
Although Morris was already popular with the public at the time of the 1927 poll, the publication of The Wind on the Water came at a pivotal moment for her career. It was read, at least by Colin Roderick and Derby Clonard, as a text which drew on her personal experience of Boort, the town where she was born. As a prolific serial producer and writer for magazines and journals, Morris was reliably entertaining, but was more aligned with popular than 'highbrow' literature. She was realistic about her 'inferior' status within the literary hierarchy. In a letter to Lavater, she mentions her involvement with the establishment of a P.E.N writers' club and the letters which were being drafted to be sent out to prospective members:
I had agreed (reluctantly) to let my name go on the bottom of them - well I had to go on with it (I know of course that people will say 'What the hell has Myra Morris got to do with it' Let somebody else be responsible - someone with a more important literary reputation! I know that - and I don't feel too happy over it - but at the moment there did not seem to be [anybody] else available - & it does not matter really who sets the ball rolling as long as it keeps on rolling! (I'm doubtful myself, tho) . . . Of course the whole thing will be abandoned unless there's a good response.6
Nevertheless, Morris expresses her apprehension about being seen as one of the organisers, demonstrating that she was far from immune to criticism. This mail-out and other activities led to the P.E.N club, which is now PEN International, representing the rights of authors in the public domain, a cause close to Morris' heart.
Despite Morris's announcement that The Wind on the Water would be published by Endeavour Press, it was first published by Thornton Butterworth in 1938. An illustration depicting the love triangle between the protagonist, her husband and her lover appeared on the front cover of the Australian Women's Weekly on 28 October 1939 to advertise its serialisation inside (see Figure 1). This emphasises the love triangle rather than the overarching story of the vicissitudes of a rural woman's life over an eighteen-year period. The publicity was necessarily selective, designed to entice a wider pool of readers.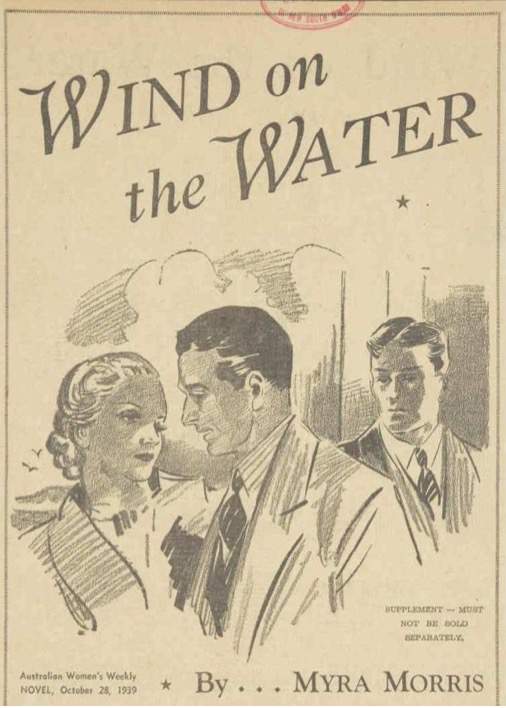 At the time of the Women's Weekly serialisation, Morris was an established writer of serials, having already produced 'The Other Side of the Hill' (Weekly Times 1919); 'Children of the Sea' (Weekly Times 1923); 'The Gay Goblin' (Australasian 1927); 'Detective Jan' (Australasian 1930) and 'Capeweed Corner' (Australasian 1930). She had made a name for herself as a reliable and prolific contributor to most leading magazines, making her novel more attractive to publishers. Yet, she was known to make light of her popularity amongst friends. In a letter dated 20 September 1938, Victor Kennedy wrote to J. K. Moir that, 'Myra Morris once told a yarn . . . that she was so pestered with fans blowing into her den at Sandringham (I think) that in self protection she had to put up a sign: "Miss Morris is very ill—with syphilis"' (Dever and Vickery 14).
The Wind on the Water must have struck a chord for many women of the era because it was later chosen for 'the women's serial' which the ABC produced on radio to mimic modern women's magazine formats. The ABC Weekly gave it a splash of publicity with photographs of the author and a full-page promotion for the serialisation (Damousi and Hamilton 47). In the absence of any critical commentary, or documented audience responses to this serial broadcast, there are few clues for researchers about how it was received. The fact that it was replayed in 1973 indicates that it was considered to be germaine to listeners three decades after publication.7 Indeed, as we will discuss later, it remains relevant to some readers in the Mallee today.
'Brown monotony' at Four Mile
The novel is set in a hotel in 'Four Mile' near 'Brown's Town', on 'the edge of the Mallee', and follows the life of the protagonist Fran over the course of eighteen years. Fran is a young war widow with a four-year-old daughter who is living in East Melbourne when the novel begins. There she meets Sam, a country publican on a trip to the city, who is described as a 'stocky, florid-faced man with short, tapering legs, and broad, hunched shoulders' (1). After his hasty proposal, Fran and her daughter Mary are bound to him by marriage. Fran soon becomes enmeshed in the day-to-day drudgery of running the pub, initially under the unforgiving eye of her 'spidery' mother-in-law who dies quite soon afterwards. She gives birth to her son Ritchie at the pub while her husband entertains drinkers downstairs. Finding the ugliness of the hotel oppressive at times, and distressed by her husband's sporadic infidelities, she finds comfort in the natural world, especially the nearby lake. In the final quarter of the novel, she embarks on a brief affair with Rennie, a cultured, worldly man who visits the pub. A violent storm breaks, and Sam is injured, prompting Fran to return to her marriage, possibly for the sake of her children's future. Sam has lost his licence forcing them to relocate to the rundown farm next door where she thinks again about how to improve her surroundings through small acts of beautification.
The narrative follows Fran's pleasures and tribulations, but also gives the reader some insight into the dynamics of Brown's Town, through the Jarrold family who run the local store. This dimension of the narrative may have been informed by Morris's experience of family-run stores throughout regional Victoria and later in Frankston. Fran remains an outsider at social events, due to her aloofness and as a result of the rumours about her status as 'fallen' woman, having arrived with a young child from a previous liaison. Her husband's lacklustre business and multiple indiscretions also contribute to her poor reputation amongst locals.
When Fran's train pulls into Brown's Town, Sam meets Fran and Mary at the train station wearing 'a shiny blue suit brief in the coat, and new tan boots that squeaked as he walked' (1). Curiously, given her unfamiliarity with Brown's Town and Four Mile, she feels an immediate sense of connection with the area:
Country-born, she felt that she had at last come home. She was on the fringe of the Mallee here (surely that was enough country for any one!) and in a little while even the memory of those drab, shut-away years in her aunt's East Melbourne boarding house would be less than a dream. (3)
The hotel, known as 'The Swan', is an old, 'disorderly shambling place'. Beyond it is a small farm and a lake. The lake 'lay out in a long ellipse of pewter-coloured water', and at first seemed 'strange and secret' to Fran (5). It is an ongoing source of fascination in the novel and becomes even more vital to Fran's existence when she gets worn down by the drudgery of running the pub. Critic Colin Roderick argues that the 'drabness' of the Mallee environment is communicated through the immediate surroundings in which the heroine fights a helpless, losing but stubborn battle against 'ugliness' and 'ineptitude' (282):
Defeat mocks her efforts to evolve something beautiful from the brown monotony of her life at the dilapidated shanty . . . The tragedy of her bowed resignation to the irony of life and the bitterness of defeat is no less touching because it is quiet. The laceration of her soul is no less jagged because her lot is cast in humble places. (282–3)
Roderick refers to the 'brown monotony' experienced by Fran in Brown's Town, leading to his conclusion that Morris chose the name to evoke a strong sense of ordinariness. He seems to conflate the drab Mallee environment with the ugliness of the pub, however there are times when the natural world offers nourishment for Fran, particularly at moments of spiritual crisis.
Fran's sensitivity and concern for aesthetics are liabilities in her everyday life, where she is mostly confined to the pub, serving guests and cleaning up after them. Sam fails to understand her need for cultural engagement − and for sympathetic allies − regarding her moods as 'queer' or inexplicable. Isolated from polite company, Fran feels overworked and misunderstood almost from the beginning. The hostile presence of her mother-in-law − clothed in funereal black − prevents her from making positive changes that might provide her with a sense of agency. Her cool reception at the Jarrolds' party, even after ten years residence at the town, shows that her situation fails to improve over time.
Resonant Objects
Objects that Fran engages with in the space of the Swan provide information about her character and the tenor of the relationship with her husband and with Four Mile itself. The first is an 'enormous saddle-bag dripping with tattered green fringe, and sunken in the middle' which Sam brings home, thinking it's a bargain which Fran immediately despises (44). Later, it becomes the site of one of her husband's infidelities which adds to her hatred of the chair. Like the front bar's odious spittoon, which she repeatedly tries to discard outside, the chair remains there, rendering her efforts useless.
Another significant item is her treasured crystal tree that 'hangs wearily like a drooping birch or a little willow' and reminds her of 'the little Ash Tree of the world that she had once seen pictured in a book of Scandinavian folk-lore' (79). When Sam accidently breaks it, Fran reflects on what its destruction represents for her sense of self and possible future:
Yes, Sam had broken more than the crystal tree. In breaking it, that pale, pure symbol of beauty, he had broken something in her. Sam had broken – or life had broken – something in her that would never come alive again. (118)
The resulting spiritual damage is depicted as irrevocable; once destroyed, Fran's initial optimism and hopefulness cannot be fully regained. Due to her isolation, all of this happens internally, unexpressed to others, with the exception of Rennie, Fran's fleeting love interest. He is the only person who notices that the crystal tree is gone from the Swan when he returns to the town. Later he tells her '[y]ou need beauty as a flower needs rain and sun. Without it you are only half there' (150).
Fran's encounters with objects in the hotel, while seemingly trivial, convince her that she has very little control over her surroundings. After a relatively short time, '[s]he learned not to say too much, and not to expect too much. That was the worst of her. She had always wanted more out of things than she could reasonably have' (16). Her first plans for 'freshening up the musty establishment', the Bulletin reviewer argues, 'dwindle to a few geraniums nursed about the back door' ('At a Mallee Pub' 7). Indeed, it is the plants by the door that she rescues when she leaves the pub at the end of the novel.
'It'll put a blight on us, darling'
Although she is a solitary figure, Fran's experience is far from unusual in the world depicted by the novel. Other women in the town are suffering in various ways, from the unsympathetic Rosie Parker, who is encumbered with a shell-shocked husband and numerous children, to the wealthy Petronella Jarrold, daughter of the local shop owner. Despite Petronella's privilege, she complains to her father about how the town has affected her:
I want to go! I myself! I'm dying here because there's nothing to live for! . . . I usen't to notice it once. . . But it's horrible now . . . The years crawling and crawling . . . This horrible Brown's Town. It'll put a blight on us, darling. It's put a blight on us now – (115)
The plight of women – as servants, dependents, wives, mothers and mistresses – is compared with the day-to-day lives of men, most starkly represented in the context of the pub. One night, when Fran is worried about her son Ritchie's toothache, she puts her ear to the door to gauge whether he has stopped crying:
Fran listened, leaning against the door, her figure drooping with weariness. Men were standing in the passage outside the parlor talking men's hard talk and smoking their endless cigarettes . . . Then the sound of Ritchie's howl, ululating and long-drawn like the howl of a dog, came to her . . . (91)
Since there is no comfort to be had indoors, surrounded by drinkers, Fran takes Ritchie and Mary to the nearby lake where Rennie comes across them. She tells him: 'I've had to bring Ritchie away from the house . . . His crying was disturbing the poker-players' (91). Richie finally goes to sleep, soothed by the sound of the water, away from the hot and overcrowded hotel.
In Beyond The Ladies Lounge, Clare Wright argues that many women publicans of the twentieth century who lived on the premises felt the lack of privacy as the cost of sociability. She quotes from The Wind on the Water to support this observation: 'It was anybody's house . . . The noises of the hotel would creep in. Feet trampling in the bar, voices sounding down the passage' (118). Indeed, Fran even gives birth to Ritchie at the pub, with the noises of drinkers permeating her mind while labouring painfully nearby:
Fran heard the sounds of revelry drifting across the bar-parlour. They were breaking glasses in there, but what did that matter when they were breaking her body out here? . . . (32)
At the pub, there is not a private domestic zone where family members can be intimate: it is a masculine public space dedicated to the leisure of specific others. As a consequence, Fran can only find a sense of privacy where she ventures outdoors.
The Changeability of Water
In Morris's writing, the narrative is usually focalised through a character who is sensitive and drawn to the natural world. Several of her stories feature bodies of water and non-human creatures which fulfil particular functions. No matter how unpleasant and enervating her life inside the hotel may be, Fran takes solace from the natural world, indicating that her love of beauty can still be explored, albeit in limited ways. She is quietly passionate about the lake near the pub which is a sanctuary for her and the children at times of conflict and desperation.
She is preoccupied by the changeability of the lake: 'The grey water moved – it was stirred into a myriad of small, pearly points, ruffled into a dancing pattern that changed the very texture of the surface' (5). Looking at the lake, she is able to focus on the evanescent qualities of the water and forget her disappointments temporarily. As Roderick argues, 'the behaviour of the lake symbolises the plot of the novel. Its placid depth corresponds to the character of the heroine' (283).
When Fran apparently leaves for Melbourne after one of her husband's extra-marital trysts, a torrential downpour mirrors the stormy state of Sam's mind:
The white bridge over the Brown's Town road swung just above the swirling water. The river flats were submerged, Chinese gardeners and vegetable growers in the low-lying area got themselves to a place of safety. (161)
One of their neighbours, stubborn 'Old Heathcote' is not so lucky, drowning in a pool after refusing to be rescued. Catastrophically, Joe Parker's oat crop and timber supply are destroyed.
Morris uses the storm as an opportunity to shake up the narrative and create a moment of crisis that prompts Fran to think about the trajectory of her life. Fran and Rennie live an 'island existence' at his Brown's Town house, while hiding from the flood – and Fran's husband (159):
'It's in spate' said Rennie contentedly. 'I love that word. When I say 'the river is in spate', I can immediately see it. An enormous, sounding brown stream with felled trees dancing on it like corks.' (159)
When they look out in the morning, they see 'a shallow brown sea' that 'submerged the river flats and lapped at the edge of the ridge' and even the lake 'grey like smoked glass, had a swollen look' (159). Fran tells Rennie that she must return to Sam after he is accidentally shot by Joe Parker. Then he sits in his boat, heartbroken, with oars in hand: 'He stared over the hazy reaches of the lake to the looming darkness of Addicott's land, and it seemed to him that he was standing outside himself, looking down from a great height on three humans who were drifting helplessly on a dark current that was life itself' (168). Following this shooting incident, Joe Parker suicides in the lake, perhaps seeing this as the only escape from the reverberations of his wartime trauma.
'Just bearing it'
Fran's sensitivity to the environment extends to a sense of kinship with the animals she encounters: rabbits, cows and ducks in particular. When heavily pregnant and due to give birth to her son, she goes with Sam to a sale yard where she sees a cow with a broken horn that is crying pitifully. She speaks quietly to herself, knowing that others would not understand:
'It's so awful' she whispered. 'I can't bear it . . . Did you see their heads . . . close up to the rails with little tight reins? Held there waiting - and the look in their eyes! So patient, so helpless . . . Dumb! Just bearing it . . . (31)
There is an implicit connection between her own impending experience of childbirth and that of the cow which has been confined and injured. From inside the sale yard there is 'a medley of sound − but above and below all was that dolorous lowing of penned cattle − that horrible, continued protest . . . It was too near the yards . . . She'd never get the sound of that mournful lowing out of her ears' (31).
She empathises with the cows to such an extent that she decides against having the child in the maternity hospital nearby. Instead, as indicated earlier, she gives birth at the pub with raucous drinkers downstairs, much to the doctor's disapproval. In this scene her pain is compared with the oblivious enjoyment of the men drinking at the pub; they are effectively inhabiting parallel universes. Sam's spirits are unusually high because he has male lodgers at the Swan 'especially good drinkers and (even better still) good shouters' (120). Meanwhile, her body is racked by pain while bringing a son into the world, who will join the ranks of these men one day.
Elsewhere, animals signify Fran's oppressive existence at Four Mile. In a clearly symbolic scene, Sam's bull chases Fran and rips her sleeve from shoulder to wrist, but she escapes before it can maul her further (119). Its incessant low bellowing is menacing, marring her enjoyment of the lake and the freedom she experiences there. Rennie asks whether this sound is a 'one of the mythical bunyips' (119), but the reality is more prosaic and speaks directly to the strictures that Fran feels daily.
Morris's short stories often explored women's experience through animal analogy. In her late story 'The Swan', published in Overland in 1965, three women – Vicky, Mrs Bloomfield and Cousin Ada in a wheelchair – visit a pond which draws them back day after day:
Here the fat little ducks dived nimbly under the ribbon-weed, and the single black swan drifted soundlessly like a ghost swan in a dream, a creature of grace and beauty in the water with its curving breast and ruffled wings, but clumsy and grotesque on the bank, waddling on its ill-paced legs like an ungainly, pregnant woman. (11)
Vicky tries to 'woo' the swan with scraps of bread but she will only respond favourably to the gardener. He observes that the wild swans have been trying to lure her away. 'But it's spring – it's the urge making her restless now. It's the urge' (12). Nevertheless, the swan chooses not to leave. Vicky identifies with the swan which she describes as 'a happy captive caught in its own dim dream . . .' (13). 'I am the swan, thought Vicky and she scrambled to her feet' (13). She will never write the letter which might change her circumstances and offer a different future. This may be based on a misunderstanding of the swan – a projection of her own thoughts and feelings onto the bird – however this sense of kinship provides a kind of comfort, as the encounter with the cows does for Fran.
In The Wind on the Water, Morris is pointedly critical of the cruelty of practices that maim animals and reduce their quality of life. Fran reflects on 'the useless pain man made for animals . . .' (62). She remembers cows in the saleyards with their heads tied stiffly to the rails and the beaten look in the eyes of a monkey she once saw at a country circus' (62). Sam's decimation of the 'Rabbit's Place' leaves carnage everywhere, ruining its former joyful atmosphere for Fran and the children. Fran relates closely to the tortured rabbits, aligning her sexual bondage with their decimation:
When he came to her of a night she would smell the blood upon his hands. There was a smear of blood upon his coat-sleeve now. That, and a little wisp of greyish fur! . . . her fur! Hadn't she been for a little space a rabbit in a trap? (62)
This is a reference to the night when Fran has her foot caught in one of the traps set by her husband, reinforcing her horror of the farm and the violence it is founded upon. It also refers to her sexual bondage to Sam – an ambivalent love/hate dynamic from which she cannot fully extricate herself.
Duck shooting season is a busy time at the Swan, and the patronage is welcome; nevertheless, Fran feels regretful for the senseless carnage it involves:
Quite apart from the endless work involved in the preparing and cooking of the birds . . . there was her unhappy and ever-present consciousness of the little soft, feathery bodies making patterns across the sky as they went to their deaths. (90)
Morris's contemporary Jean Devanny also connects the enslavement of women with the farming of animals in The Butcher Shop (1929), which was banned in New Zealand in 1926. Patrick Evans characterises The Butcher Shop as a corrective of colonial romance, given its concern with entrapment, victimisation, violence and death (Evans).
The scenes of docking and castration on a New Zealand farm in her novel are reminiscent of the death of rabbits by traps in Morris's novel:
Two men work together. A lamb is grabbed and held by one man. The other lifts his sharp knife; one slash and the tail is off; the ear is split with the station mark. Blood spurts everywhere; the animal struggles convulsively. Savage and brutal, ay? The lamb must be denuded of its tail so that the health of the sheep be not affected by dirty wool. The poor tiny ear must be slit to preserve property rights, and out of it all, in the end, steps the fashionable lady and gentleman. (Devanny 253)
The depiction of oral castration of lambs as part of this docking process was deemed to be so detrimental to the country's immigration policy that the novel was banned in New Zealand shortly after its publication (Pearson qtd. in Mercer 54). The literary representation of violent farming practices such as this was regarded as harmful to the country's economic prospects. Erin Mercer argues that the 'excessive' qualities of The Butcher Shop point to the heightened realm of Gothic, which it uses – alongside its realist criticism of capitalism and property marriage − to convey the horrors of agricultural slaughter and the effects this has on those involved with it (54).
The connections between women's subservience and the slavery of animals is not made as explicitly or didactically in Morris's novel, which is centrally concerned with the tragic predicament of her protagonist. Yet Morris arguably problematises what Hayley Singer calls the 'deadly authority of Western culture's carnophallogocentric logic', as it depicts cross-species suffering resulting from capitalist patriarchal culture. Singer observes that some texts illuminate the means by which violence towards animals intersects with, and reinforces, other kinds of institutionalised control and exploitation. The bodies of animals and humans, she argues, come to stand as metaphors for one another in practices of oppression (184).
Mallee Short Stories
The entry on Morris in the Australian Dictionary of Biography notes that her novels reveal a keen insight 'into the difficulties faced by women in inadequate marital relationships', but 'her talents for domestic realism and naturalistic description, especially of rural environments, are best suited to the short story' (Jordan). Upon further investigation of her short stories, Morris's recurrent preoccupations emerge, offering another perspective on her best-known novel. Motifs such as women's friendships and the natural world recur throughout her work, with depictions of the harsher aspects of Mallee life. The grind of its physical demands, farmers defeated by the land and passing references to the dispossession wrought by colonisation, are present in these stories.
'The Blue Rabbit' was published in the Australian Women's Mirror in 1929. It tells of a Mallee friendship between two women which disintegrates when Lesbia moves to the city and her values change accordingly. Inexplicably, the city woman is known by her first name while her country counterpart is Mrs Hastilow. The bulk of the action takes place at Lesbia's city residence where Mrs Hastilow has flashbacks from their friendship:
Looking vaguely backwards Mrs Hastilow remembered the Summer evenings when the two of them, with the small children tucked into bed, had come across to her untidy little house; Lesbia, who had always shared afternoon-tea with her at the Ladies' Guild and borrowed bread when she was short. (50)
Lesbia, the city dweller, has forgotten her domestic skills, is no longer interested in local gossip and exhibits a snobbery that was not evident before, according to Mrs Hastilow. Morris depicts a breach of shared female experience as Lesbia, now a city woman, performs her indifference to her country acquaintance:
But Lesbia did not seem to be listening. With a hand over her mouth she was hiding a yawn. Mrs Hastilow was aware of a deepening heaviness of spirit. There seemed to be a weight lying on her heart. What was the time? She would go now. She wouldn't stay any longer ('The Blue Rabbit' 50).
'The Bag Sewer' (1927) is set in a Mallee-like place, featuring an itinerant worker named Charley who trudges the roads looking for work. He stops at a farm where harvesting is taking place and is asked to sew wheat bags. H. M., writing in the Age with an eyewitness account of Mallee harvesting, explains how the bag sewing generally operated:
After the machine has whirred by on its merry way you will observe men following it slowly, handling the bags it dumps at intervals around the big paddock. These are the bag sewers, and they follow the machine, sewing up the unsewn bags standing on end left in its trail. Each bag is tipped up, rammed tight and then carefully but quickly sewn up. The bag sewers seem to work in leisurely fashion, but if you watch them at close quarters you will find that their hands are going like lightning. ('Harvesting: A Mallee Picture' 5)
Charley complains about the hardship and monotony of his life on the road and is offered a job by the farmer but shoots through the next day. The farmer is enraged, assuming that he has been duped, but the farmer's young daughter points towards the blue haze on the horizon. 'That's where he has gone. It's always making him go' ('The Bag Sewer' 11). This story exhibits Morris's long-standing concern with the underdog, the person whose qualities have remained unappreciated and unseen. It also reveals her interest in the environment; the tramp chooses the blue haze over a steady job. He is compelled forwards rather than staying on the farm earning a subsistence wage. A bag sewer also appears in Michael Meehan's novel The Salt of Broken Tears (1999). Greg Prichard observes that the bag sewer is based on celebrated Mallee poet John Shaw Neilson, 'a person who knew better than many the hardships involved in trying to make the Mallee habitable. Shaw Neilson had worked menial jobs such as shoot cutter and shearer throughout the border areas of the Wimmera and Mallee' (63).
Morris's short story 'The Lagoon', published in her collection The Township (1947), features a conversation between a farmer and his son on a farm which might be in the Mallee, although the exact location is never given. The young boy tells the father what he has been learning at school about the Aboriginal people who used to inhabit the land: 'The blacks were all over here. They hunted, and ground roots between stones, and made their camps' (206). But his father is not interested in this topic of conversation. He is more concerned with the drought, which is reducing the health of his stock. He looks with approval at the light that is showing in a 'tumbledown shack' set back from the road, as this family have not given up the battle against the land. Others, however, have deserted their houses, now 'half-hidden under the drifts of sand, shut-up empty, their occupants gone away forever' (207–8). The father is bemused by 'those strange people who had up and gone leaving the fight behind them' (208):
The boy sat motionless, his little snouty nose lifted. That queer hollow sound out of the air, coming from nowhere in particular, but making the earth tremble . . . The curlew cried again. The boy looked over his shoulder. A sense of fear, fear of the unknown, moved in him. (207)
Suggesting her recognition of the settler-colonial reluctance to focus on the foundational dispossessions of colonisation, Morris contrasts the boy's growing awareness of people who lived on the land long before them with his father's fixation on non-Indigenous agricultural claim. The bunyip comes to his mind when he hears the sound of the bittern − or 'bittrun' as he pronounces it − prompting a feeling of uneasy wonder. Yet his father is indifferent to the 'nasty enough lookin' fellahs he had seen once up along the Murray' (206). His focus is on the fight of the farmers like himself, who keep struggling on land not suited to intensive cropping. As if ultimately reverting to his father's way of seeing, the boy relates that the new teacher at school says, 'the farmer is the most important man in the country' (208).
From the Hotel to the Farm
The favourable social status of the landowner is possibly what attracts The Wind on the Water's Sam to farming, although he approaches it in a desultory manner. While he enjoys the social side of being a publican, his sloppy standards and lack of adherence to rules at his 'fifth rate country pub' ultimately lead to its closure (140). His initial investment in Joe Parker's farm is doomed to failure, due to a poor season − not uncommon in the Mallee − and Parker's unstable mental state:
Business was worse than ever, and to make matters worse he had gone halves with Joe Parker in a wheat crop that wouldn't be worth taking off for its seed. The season was a bad one all round. No rain had fallen, and the ground was baked dry. Feed was scarce, and in places they were hand-feeding the stock. (111)
To add to his financial woes, Sam is fined for serving alcohol outside of pub hours, rendering Fran complicit with his offence. Sam is forced to vacate the premises and commit himself to a life on the run-down farm.
Once Sam takes up Parker's farm, Fran effectively takes on the role of the harried Rosie Parker who has left for a relative's house with several fatherless children. The property has few prospects and Sam has shown little aptitude for farming to date. He brings a similar lack of energy from his publican life to his farming role; instead of striving for success, he seems to aim for mere subsistence.
A letter from Mary at school in the city reveals that she is happy and flourishing, justifying Fran's self-sacrifice. She swallows her feelings of frustration and defeat, while pondering ways to prettify her environment. As their loaded van moves forward, away from the Swan, Fran thinks about how she can improve the farm with plants that only ask for less than a cup of water (182): 'Perhaps a creeper that would grow quickly . . . Dolichus for the fences . . . And geraniums . . . Geraniums will always grow in sand' (184):8
Fran passed her hands over her eyes. She was living a moment she had lived before . . . She remembered . . . That first night that she had come to the Four Mile . . . Standing by the water, watching, thinking as the wind blew over the lake . . . Your life could be like that, placid and unbroken, and then in one swift moment touched into a dancing shape by something coming swiftly . . . out of nowhere . . . Like that for a moment . . . then afterwards . . . as if the change had never been . . . (184)
A contemporaneous review in the Goulburn Stock and Property Journal suggests that after a 'transitory love interlude', there is a final solution to the narrative in which the husband and wife are 'drawn together again by misfortune which reveals their love for one another' ('Notable book' 3). Arguably, the prospect of Fran's future happiness seems much more tenuous than this unimaginative review suggests.
Loud cheers for Myra Morris
Although Morris lived in Frankston during much of her adult life, her birth in Boort and the publication of The Wind on the Water led to her being described as a 'talented daughter of the Mallee'. Derby Clonard, author of the 'Weekly Book Discourse' column for the Ouyen Mail (1915–1918, 1931–1941) hailed her book as the beginning of local literature:
Several months ago, in these notes, I made a prophecy that the time would come when we would have a novel set in the Mallee. At the time I sighed for an Edna Ferber to give this epic to the world, but Australia, so far, has not bred a daughter of Miss Ferber's type, although we have some very fine women novelists already. However, my prophecy has come true, very much sooner than expected, as Myra Morris's new novel is set in the Mallee, where she was born, and I think the occasion calls for loud cheers for the talented daughter of the Mallee, who now lives at Frankston (Vic.). The book is entitled 'The Wind on the Water' (Thornton & Butterworth Ltd.). (Clonard 8)
Morris's interest in nature chimes with that of John Shaw Neilson, the most well-known poet of the Mallee, whose work makes an appearance in her novel. Gary Catalano observes that Rennie reads Fran the Shaw Neilson poem 'Song Be Delicate' under an almond tree in his garden in a 'charming, self-conscious voice' (160):
Let your song be delicate
The flowers can hear:
Too well they know the tremble
Of the hollow year.
Let your voice be delicate
The bees are home:
All their day's love is sunken
Safe in the comb . . . . (160)
Morris may have decided to include the poem as an homage to Neilson who had a devoted following at the time she was writing. She shared his romantic sensibility, as well as his recognition of the beauty of the Mallee sublimated to a dominant culture of brutality, although Morris's work explicitly engages with the mistreatment of women by men while Neilson's tends toward more idealised representations of his female subjects.
Reading The Wind on the Water in the Mallee
Historic readers of The Wind on the Water made connections between Fran's story to those of countless women labouring in obscurity. As 'K. A' observes in an article titled 'Well Done, Myra Morris: A Novel of Our State', 'Fran is so typical of our own Victorian countryside. Big, capable, and strong, she has her counterpart in thousands of women who have some spiritual quality which enables them to live hopefully in an environment which lacks the means to nourish their souls' (14).
Despite this tendency to claim Morris as a Mallee writer or Victorian writer, she had wide ranging interests that were not confined to a specific geography. In 1940, the year after Clonard's celebratory column, Keith Attiwill argues in the Australasian that both The Wind on the Water and Morris's subsequent novel Dark Tumult (1939) are 'what the Americans call "regional" novels. The first is set in a Mallee township; the second along that beautiful stretch of Victorian coastline between Lorne and Port Campbell' (35). He argues that 'this journal can fairly claim to have made some contribution, in the shape of early encouragement, to a writer who can hold her own in the best company. She has a deep insight into human nature; she has the gift of drawing the Australian character in bold, authentic lines' (35). A more critical review of Dark Tumult in the Bulletin Red Pageargues that it is 'serious fiction' because it is 'too good in its Australian seascapes and its domestic satire simply to be treated as light romance'. However, the reviewer is critical of, amongst other elements, the 'mechanical obviousness of the conventional happy ending', which is a hallmark of the romance genre ('A Myra Morris Novel' 2). Clonard cites the Sun Pictorial critic, who concurs that 'it is not just another sentimental yarn for an idle hour. It is a worth-while novel of some power and considerable promise' (qtd. in Clonard 5).
The 'Melbourne Chatter' column in the Bulletin observes that in Dark Tumult she 'has written about Victoria's ranges and coastlines and the Mallee, and now she is going to try her hand at knocking a human story out of one of the State's profitable industries' ('Melbourne Chatter' 33). It goes onto reveal that Morris will head off to 'canning country' to gather material for another novel: 'She will get her first glimpse of the industry from her orchardist sister, who is settled at Shepparton'. An article in the Herald confirms that she was planning to write a book set in Shepparton ('Myra Morris Begins New Book on Shepparton' 11). It is unclear what writing Morris produced as a result of this research, but it did not result in a published book. Around the same time, Morris said publicly to the Bulletin that 'Australian writers have plenty of copy in their own country, and they should not hanker after writing about other places of which they know little' ('Melbourne Chatter' 33). This comment shows that she prioritised the telling of Australian stories, at least in the latter part of her career. It also indicates a double consciousness in her work of both attunement to the significance of particular places and the specificities of regions, and a desire to speak broadly to an Australian readership.
With this in mind, we sought to engage contemporary Mallee readers with this largely forgotten writer from the region. To do this, we undertook book groups focused on The Wind on the Water in two Mallee towns, Mildura and Boort, as part of our 'Reading/Writing the Mallee' project – a pilot of a larger ARC research project 'Reading in the Mallee: The Literary Past and Future of an Australian Region', exploring a participatory reader's literary history of the Mallee. These book groups were held in 2018 and 2019, at the Mildura Library (as part of a year-long, bi-monthly reading group), and at the Railway Hotel in Boort, a one-off gathering of interested readers in the town. While the Mildura group was part of a regular series, assuring the attendance of those who signed up, we were concerned that the Boort gathering might not garner much interest, due primarily to the age and relative obscurity of the text. This group was surprisingly well attended, partly due to the enthusiastic assistance of the Boort Historical Society and the local resource and information centre (BRIC), which encouraged participation from a range of genders and ages (our youngest reader was 17, and our eldest in their 90s). What these book groups revealed was that Morris's novel still generates interest and identification amongst readers, as well as the complexity of mapping places and communities onto works of regional literary fiction.
Initially, we had assumed a straightforward connection between Boort and the fictional 'Brown's Town', partly due to Roderick's 1947 contention that the 'country public house and its surroundings exist today as they are described in the book' (281). This was contested by readers in our book group. One reader observed some inconsistencies between the setting and the 'real' town:
To make the plot work you've got to take your visuals to a workable level and that's what she's done. I argue that it'll be part Boort, part Rochester, part Buckrabanyule, part Reedy Lake, part Durham Ox with the Bridge and the river which is amalgamated in to make a work of fiction that fits the plot. And there's no railway station nearby the pub in Boort that I'm aware of but in Rochester the railway station was across the road from the pub, so she could amalgamate those sorts of things to get a fictional plot.
The reader regards the setting as an amalgamation of a variety of towns and localities. Another reader comments that it is not crucial to know exactly where it is set because it is a work of art:
But it doesn't matter does it . . . it doesn't matter where it's set, it's an image of a town in a dry Mallee-ish area and the life that's produced in that dry small town with a pub as the centre of attractions and all that sort of thing. It's a work of fiction – it doesn't matter.
One reader speculated about the clarity of Morris's memory of Boort, given that she was quite young when her family departed:
A: She wasn't very old when she left here so she's not going to have a huge memory of the town.  It's not a detailed memory.

B: Certainly the weatherboard pub resembles Wychitella or Borung – not like the pubs here – a more ramshackle, less prosperous affair.
In our follow-up survey, a participant commented on the desire to 'place' the narrative in a recognisable location:
I was surprised at how so much importance was placed on whether the town in the book was Boort or not. It was a work of fiction not a history. I really enjoyed reading the book set in a different era to the one I grew up in, actually published at the time my parents were married.
In hindsight, we see that our knowledge of Boort as Morris's birthplace shaped our assumptions about the novel's setting. In this way, the 'logic of autochthony' can play a major part in how an author's book is situated and analysed, and received by readers both at the time of publication and beyond. We want to argue for a more expansive definition of the regional novel which does not rely on rigid regional boundaries or assume an alignment between an author's biography and the region. Authors need not be born in the region they use as settings in their writing, but when they are, readers often put greater weight on their work. We found that our readers were always curious about Morris's biography, especially the question of where she came from.
Both book groups – Boort and Mildura – responded to the social isolation that Fran experiences in Brown's Town, commenting on how self-enclosed small towns can be, particularly to newcomers:
A: She was a stronger woman than the average woman . . . coming to a country town in those days . . . people who come to Boort say that it's difficult.

B: And they still do.

C: It takes a long time for you to become a local . . . I thought she was very strong and forthcoming for a newcomer to the town.

D: I'm not a local, my children are but I'm not.

E: She's been here 50 years.
Both groups agreed that it is very hard to fit into a country town as an outsider. The Mildura group pointed to the Jarrolds' party where Fran played classical music that 'nobody liked' and made casual remarks about the ugliness of the town which offended people.
Candid reflections on the culture of regional places were activated during the Boort session; a lone parent identified with Fran's arrival in the town and the social snobbery and prejudice against single mothers she identified as still prevalent: 'From [my] point of view . . . moving to a small country town it is very difficult . . . to do . . . hard to fit in'. Readers in Mildura identified with Fran's loneliness but also her experience as a subject of gossip, which they called out as a feature of regional towns – even large ones such as Mildura.
She decides to stop going to church because she decides that they are never going to accept her – pretty much – 'there's no need for me to go anymore, I don't need to impress anybody'. It would be hard to keep trying and still not be accepted, I think . . .
Critics vs readers
The critics who discussed The Wind on the Water gave it mixed reviews, noting its readability while acknowledging its flaws. A Bulletin reviewer claimed that 'some inner urgency in the story is missing' and that the (male) reader is not made to feel emotionally involved in Fran's difficulties: 'not to the extent he would like to be, or feels he should be, the facts being what they are' ('At a Mallee Pub' 8). Although we did not talk about the book's reviews with our readers, we were interested in comparing its critical reception by reviewers with those of our modern Mallee readers, while knowing that these would likely differ substantially. The Bulletin reviewer did not feel moved by Fran's predicament, but one male participant in Boort claimed to have cried when he read about Fran's situation and said he needed a support person to accompany him to the session. He had been brought up short by the characterisation of Fran, perhaps triggering some associations with his own life.
In The Uses of Literature Rita Felski discusses the instant feeling of recognition that can be experienced when reading:
Suddenly and without warning, a flash of connection leaps across the gap between text and reader; an affinity or an attunement is brought to light. I may be looking for such a moment, or I may stumble on it haphazardly, startled by the prescience of a certain combination of words. In either case, I feel myself addressed, summoned, called to account: I cannot help seeing traces of myself in the pages I am reading. Indisputably, something has changed; my perspective has shifted; I see something that I did not see before. (23)
At such a distance in time, and given the antiquated language employed by the novel, it is notable that many aspects of Fran's life prompt such recognition in modern-day Mallee readers: her husband's laziness and promiscuity, the closed nature of Brown's Town society, the agonies of motherhood, and the ambivalent prospects of regional lives, where economic stresses and environmental challenges remain. Aside from the romance plot – the question of whether she would choose 'true love' over duty – the social dimension of small-town life was the most resonant topic of conversation, since everybody could relate to it, in one way or another. As a Mildura reader put it, this is a timeless subject: 'nowadays . . . you can translate a lot of these themes about people getting along with each other and people being egotistical and people who can cross the divide of wealth and others who can't – and those to who it really matters – no one else is as good as you – this theme still prevails'.
The Tyranny of Love
The participants in Boort and Mildura expressed interest in the reasons why Fran chose not to leave Sam, but understood that she needed to preserve her respectability for the benefit of her children. Overall, the readers were disappointed that Fran returned to live with her husband after the affair with Rennie. Two people at the Mildura reading group explored the vicissitudes of a long and tumultuous marriage:
A: Towards the end of the book, I highlighted this passage 'the tyranny of love which goes on long after love itself has lost its shape. It is greater, rather than pride greater than anything else, it is terrible and beautiful enslavement.' And that was the time of the court case and she's explained it. That sums it up fairly well. Because of their connection at that time − it the connection of that relationship that's the enslavement.

(. . .)

B: She went off and had her fling, remaining with Rennie and nobody knew. They wondered about it – because she'd done it, it might have frightened her. Sam's accident might have given them an out. That's one of the reasons why she won't go with Rennie is because it's half-finished. She says 'I had all these plans and they are half-finished so I can't go.'
Speaker B points towards the unfinished nature of Fran's plans which provide a reason why she made this decision, with some remarking that it was possibly due to her desire for her to return to the marriage. Sam's shooting accident and the knowledge of Rennie's heart condition provide an excuse to end the affair.
Fran's prospects seem bleak on the neighbouring farm after the closure of the hotel, yet her mind goes towards the small details such as the plants she could grow to make it look better. Speaker A observes that the love she feels for her imperfect husband endures, despite all his misdemeanours, characterising it in Morris's words as a kind of 'tyranny'. It is the price she pays for maintaining contact with her children, who would be harshly judged by townsfolk if she ran away with Rennie.
The readers mostly agreed that Fran sacrifices herself for the sake of respectability, realising that she is not cut out for an ongoing affair or living in sin. This was also recognised by the Bulletin reviewer at the time of publication, who observed: 'Her tragedy is in some measure relieved by having been able to save Mary, her own 20-year-old daughter from a fate similar to her own' ('At a Mallee Pub' 8). From our discussions, it is clear that contemporary Mallee readers were disappointed that Fran returned to her husband, but they could see Fran's decision as an act of strength, rather than a failure of nerve.
Recursive Relations
Brown's Town may not map unproblematically onto the real town of Boort; however, there is more to explore – following Philip Mead's scholarship on regional literary history – on the 'recursive relations' (551) that a fictional representation of place generates to the multi-faceted experience of living in Boort, on 'the edge of the Mallee'. Mead's idea speaks to the ongoing production of places through poetic, discursive and lived engagements; these produce place imaginaries that are unstable and open to ongoing remaking. In this way, there is a no single 'Boort' to represent. Feeding into this process of recursion, inhabitants' perceptions of place are inevitably shaped by their backgrounds and their affective engagements with the area and its history. When Boort was first 'settled' by colonisers in 1843, it was inhabited by a large number of Dja Dja Wurrung people, based on the 3,000 cooking mounds found within a 20-kilometre radius to Boort (Romensky). Massacres and the ravages of smallpox decimated Indigenous families in the area (Johnstone). These events have been poorly acknowledged by the non-Indigenous population to date, despite the work of local historians Paul Haw and Margaret Munro (Haw and Munro).
Readers were hesitant to engage with questions of colonisation and early frontier histories, whether from a lack of knowledge or from caution around a potentially sensitive topic. Statements that closed down, rather than opened up, discussion were offered, for instance by one reader who stated that the history of the town is 'mostly Anglo'. This was despite the attendance in the group of a ninety-plus year-old Samoan woman. This same reader continued, referring to the time in which Morris was writing: 'There weren't many racial divisions in the town . . . very little Indigenous people played into [Boort] at the time'. This then generated an exchange about the plight of Chinese gardeners in the region, who contributed much to the development of the town but who were not formally recognised until recent re-dedication services by the Chinese community of nearby Bendigo. This indicates that the dominant story of a place − in which there was very little racial diversity − can be contested and undone through book group discussion.
Notably, a discussion about the book's depiction of class – where a subtle critique of the squattocracy's economic advantages contrasts with the endless toil of Fran and others like her – led to one participant objecting to the book because it 'painted the landed gentry in a very bad light' and 'created a conflict that wasn't there'. This reluctance to enter into critical dialogue around the past and its structures of privilege and exclusion in general reflects the relative silence about the Mallee's founding. At the same time, the discussion prompted by the book opened up reflections that implicitly gesture to a much larger diversity in the region than is otherwise acknowledged. The Samoan participant, who never planned to stay in Boort, appreciated the multiple recognitions afforded by the novel, as well as personal memories of places beyond the Mallee:
Oh yes I found it interesting! It seemed very familiar to me . . . and coming to those places . . . they came to holidays in Carrum . . . the kids used to go to school in Carrum . . . and Seaford . . . Toorak, I went to Victoria college there. And Cobb & Co, I was 11 told there was a station here, next to the Hotel. I got so excited to come across it . . . it was so familiar. And the landscape . . . the farming landscape . . . my heart beats faster!
Both the novel and the author's biography prompted recollections of other places and times which drew spatial and temporal threads of connection together for the readers. Mildura readers were struck by Fran's affinity with nature and pointed particularly to the respite that she finds there. This elicited reflections on readers' own emotional investments in place:
A: At the end she talks about the ripples in life. A metaphoric lake. It's where she found peace at the lake. Like you have as a child − a special place.

B: Like a cleansing place.

C: Mine was a walnut tree.

D: Also, it was a thing of beauty when she didn't have much that was beautiful in her life . . . the Mallee is quite harsh and very depressing but there's still beauty in it.

A: You can find beauty yeah.
Several readers commented on the anachronistic language in the novel, but there were also remarks on the refreshingly modern aspects of the text. A participant in the Boort group offered this reflection on an exchange with her work colleague, also present:
The fact that the book has been dug up and we're talking about it is wonderful . . . remember you came into work and said it's got a good feminist story to it - you said that it could be brought into today's world if you just added some cars to it.
This comment prompted a bout of sustained laughter, with a few people following this up by saying that the themes of unfulfilled expectations, female sexuality and wandering husbands, were 'timeless'. Yet the recognition that the book's depiction of relatively overt female longing (and extra marital sexual encounters) was unique gave rise to reconsiderations of Mallee women in that particular time and place. Amidst the broad cultural stereotypes of stoic, long-suffering farming women in the Mallee are Nancy Cato's Mrs Slope in But Still The Stream (1962) from her All the Rivers Run trilogy and Jean from Carrie Tiffany's Everyman's Rules for Scientific Living (2005). The discussion of The Wind on the Water prompted a recognition of diverse female experience in Mallee imaginaries: 'That's why it was interesting . . . (Morris) was exploring female desire and sexuality in quite a sophisticated way . . . and it's not a young girl, it's a woman in her 30s'.
Animal Encounters
Although treatment of animals in the text concerns us as readers of the novel, Mallee-based readers tend to be more pragmatic about the ways in which non-human creatures are controlled and culled. The Boort group did not discuss the treatment of animals at all, possibly because more time was devoted to talking about the setting and its apparent resemblance to the town. However, the Mildura group talked briefly about the injured cow and the rabbit traps:
A: A rabbit trap would hurt you if it got you on the back of the ankle.

B: If you stand on it, it flattens out the arms so it wouldn't hurt you. 

C: They are illegal now. Station owners would still use them.

A: People still go rabbiting.

D: She's upset by the cow and refuses to give birth at the hospital.

E: Certainly country people at the time would have turned a blind eye. There's the idea that the animals are just there to be used, to make money, to be eaten. Maybe it's because she's not from the country originally?

A: Yes if you weren't used to it, it could seem very brutal.

C: She puts up with the rabbiting until she actually sees a rabbit crying.
These readers acknowledge the clash between Fran's own values and those of her husband and how she must compromise in order to remain at Four Mile. One noted that the traps destroyed her 'special place': 'when she got her foot caught in the rabbit trap, that stopped being the place where she escaped from things'. Here, there is an acknowledgement that the mistreatment of animals has implications for Fran's own psychological state. Sam's violent encroachment on Fran's private hideaway essentially leaves her with nowhere to find the solace she desperately needs. Some readers observed that her need for understanding partly drove her to begin an affair with Rennie.
Conclusion
The resurrection of Myra Morris's The Wind on the Water following decades of obscurity, offers possibilities for strengthening the literary identity of the Victorian Mallee. After undertaking these two reading group sessions in Mildura and Boort, centred around The Wind on the Water, we observed strong and affective responses to the text by local readers three quarters of a century after its original publication. Readers showed a great interest in the Mallee biography of Morris, and the question of Boort's resemblance to Brown's Town. Despite the lack of certainty around – and some readers' outright rejection of – the veracity of Boort as the model for Morris's setting, readers were willing to claim her as a Mallee writer, possibly due to her place of birth. The Boort participants all wanted to keep their photocopied versions of The Wind on the Water and the Historical Society decided to acknowledge her as a local author in future.
Our discussions generated an intimate and complex mental geography of place associations and imaginaries and gave voice to darker histories of the Mallee that are commonly not addressed or part of the literary lexicon of the place. The reader's statement that Indigenous people played no real part in Boort's history speaks to the valency of ongoing narratives of erasure here. At the same time, readers sought to identify with aspects of the text, and were keen to read their experiences into Fran's. What was also clear was that resonant readings of the text, and interpretations of its protagonist, cross readerships both historical and contemporary.
Just as our book group readers noted Fran's subjection to social, familial and environmental forces, a reviewer in the Bulletin noted that Fran is 'slowly devoured by the pub and the demands of her loved but quite unsympathetic husband' ('At a Mallee Pub' 8). Similarly, the entry on Morris in the Australian Dictionary of Biography argues that 'her often beaten-down and defeated people always contrast with her lyrical evocation of landscapes' (Jordan).
Morris's successful career as a writer of popular fiction tended to preclude her from serious critical engagement, though she did have a loyal following amongst women readers along with sustained attention from Colin Roderick and Derby Clonard, who both emphasised her Mallee origins.
Morris's novel might be regarded as a crucial antecedent of a number of contemporary novels about sensitive women seeking beauty in small Mallee towns, including Rosalie Ham's The Dressmaker (2000), Carrie Tiffany's Everyman's Rules for Scientific Living and Anne Brinsden's Wearing Paper Dresses (2019) amongst others. Her own early experiences in country towns may have contributed to her understanding of the lot of rural women who slaved to maintain their households in precarious conditions, but we cannot know this for certain.
Readers from our project perceived that Morris's characters, while struggling and conflicted, always see the beauty in what is nearby, whether it is the blue of the horizon or a ruffled lake. Her novel suggests that while the human world can be cruel, there are always compensations to be found if you are open to the beauty around you. The more complex renderings of the Mallee offered by Morris's novel, along with the readers' response to it, show how places are continually being made by the stories told and read about them.